PowerPlay Sportsbook Review for BC Bettors - Bonuses, Betting Options, and More
Last Updated: October 24, 2023
Welcome to the exciting world of sports betting. In this guide, we'll explore one of British Columbia's best gaming platforms - PowerPlay Sportsbook. With the surge in popularity of sports betting across BC, Power Play Sports has carved its niche, providing a superior gambling experience to an ever-growing community of gamblers. Throughout this guide, we'll review its offerings, the success stories, and how it compares with other platforms in the industry.
New Player Sign-Up Promotion:
100% Match Bonus

+ Up to $1000
Claim Offer
Sports gaming, once considered niche, has now become a mainstream activity in British Columbia. Many sports enthusiasts now enjoy participating in it to add more excitement and engagement to their favorite sports. Power Play has been at the forefront of this evolution, building a strong reputation through its competitive odds, diverse markets, and user-friendly platform.
Our experts at BCGambling.ca have made it possible to offer an insightful, in-depth review of PowerPlay Sportsbook BC. In this guide, we'll explore the platform's offerings, share expert insights from successful players, and provide a legal overview of sports wagering in BC. Whether you're new or experienced, this guide will offer valuable insights to improve your gambling strategies.

Key Features of PowerPlay Sportsbook
PowerPlay Sportsbook, a premier online platform for sports gambling and casino games, boasts an impressive range of features that make it a favored choice among Canadian gamblers. Recognized for its broad selection of sports gaming options and user-friendly platform, it caters to diverse gaming preferences and is equipped for the dynamic and fast-paced world of online gambling.
Key Highlights include:
Multiple Gambling Options: From standard moneyline bets to more advanced options like parlays, teasers, and props.
Wide Range of Sports: One of the key advantages of this platform is the extensive variety of sports available for gambling. Not only does it cater to followers of globally popular sports such as soccer, basketball, football, and hockey, it also encompasses gambling options for more niche sports events. Whether a fan is looking to engage in English Premier League betting, place a wager on a NFL football game, bet on a horse racing championship, or anticipate the outcome of a Major League Baseball match, the sportsbook's expansive portfolio provides countless opportunities for the thrill of sports gambling.
Real-time Betting: To add another level of excitement to the wagering process, PowerPlay Sportsbook offers real-time or live gaming, also known as 'In-Play Betting'. This feature allows players to place bets even after a game has started, opening up a thrilling dynamic dimension. The ability to react and bet on unfolding events injects an additional adrenaline rush into the experience, further enhancing the appeal of the site for those who thrive on the unpredictability and fast pace of live sports.
Online Casino: Traditional and cutting-edge casino games like blackjack and roulette are available, in addition to sports gambling.
In summary, PowerPlay Sportsbook stands out for its diverse range of sports gambling options, its user-friendly and mobile-compatible platform, and the added excitement of its live gaming feature. Together, these factors contribute to its position as a leading online gambling platform in Canada.
Getting to Know PowerPlay Sportsbook BC
As one steps into the world of online gaming, understanding the dynamics of the platform used is crucial. PowerPlay Sportsbook BC, one of the leading online gambling platforms in Canada, has made significant strides in the domain, with a multitude of sports gaming options and an interactive user interface that appeals to both novice and seasoned players.
Understanding the Platform
An online sportsbook operates on the principle of predicting the outcome of sporting events. Power Play provides a variety of odds, including decimal, fractional, and American odds, indicating the likelihood of a particular event occurring. The key aspect to remember is that sports are unpredictable, and even if you back a favorite, winning is not guaranteed.
The concept of 'odds' is central to the Power Play sports betting process. The shorter the price, the higher the probability of an event occurring. For instance, if decimal odds are 3.00 (equivalent to fractional odds: 2/1, and American odds: +200), placing a $1 bet would return $3 if successful, comprising the original $1 stake and $2 winnings.
Registering and Setting Up Your Account
Setting up an account at the site is a simple and swift process.
Click the 'Sign up' button on the homepage.
Fill out the required fields on the form.
Accept the terms and conditions, and confirm you are over 18.
Click "Join now" to complete the process.
As part of the withdrawal process, PowerPlay Canada mandates account verification to confirm the accuracy of the provided information and the legitimacy of the user. Required documents include a valid picture identification and proof of address not older than three months. During the verification process, a selfie is taken for validation. After successful verification, the user is free to proceed with withdrawal requests.
Navigating the User Interface
Power Play's website has been designed for intuitive navigation. The sports menu is on the left, the betslip on the right, and the markets of choice in the center. Live events are accessed via the 'Bet Live' button on the top right of the home screen, organized by sport. The 'Upcoming Matches' schedule aids in planning, while a 'Popular Bets' tab showcases popular live picks.
Navigating to the 'Casino' tab reveals an assortment of online slot machines categorized into Most Popular, Featured Slots, and New Games. Casino game history and bonus statuses can be viewed in the Casino Account section, while current promotions can be found on the Offers page.
The site offers a variety of payment methods, accessible via the Deposit Page once logged into the account.
Mobile Compatibility
Recognizing the increasing shift towards mobile gambling, Power Play offers a mobile-compatible site accessible via a mobile browser. Despite no dedicated app, the mobile site ensures a seamless experience and mirrors the desktop version's exciting features and crisp graphics. Whether at home or on the go, the sportsbook world is just a click away.

Sportsbook Promotions at PowerPlay
This platform is renowned for its array of promotions and bonuses that enhance the gaming experience for its users. From welcome bonuses to free bets and special event offers, there's something for every player to boost their power play hockey gambling journey.
Welcome Bonuses
Upon registration, the site greets its users with a lucrative welcome bonus package. It includes:
First Deposit Bonus: A 100% match on the first deposit, up to a maximum of $500. Be it a minimum deposit of $10 or a maximum of $500, PowerPlay matches it. For instance, deposit $200 and get an extra $200 as a bonus.
CFL Free Bet
One of the ongoing promotions at PowerPlay is the Canadian Football Special Offer. Here's how it works:
Members must place a live, in-play single bet of at least $100 on any Canadian Football League (CFL) game.
After qualifying bets are settled, usually within 24 hours, a $20 free bet is awarded.
Players can utilize the free bet on any CFL bet, whether it's a single or multiple, within 7 days after being awarded.
There is a cap of two free bets per day per player.
It's important to note that only cash bets qualify for the free bet and that cashout bets are ineligible. Also, free bets can't be used on both sides of the same bet.
The Free Bet offer does not have a rollover condition, meaning the players don't need to wager the bonus amount a certain number of times before withdrawing winnings. However, when a free bet is used, only the winnings are transferred to the cash balance; the stake is not included.
Soccer Parlay Special
Another notable promotion is the Soccer Parlay Special. This promotion offers a 10% boost on winnings when members create a pre-match soccer parlay with at least five selections. Here's how it operates:
The total odds of the parlay must be 4.0/+300 or higher, and all selections should take place within the same game week.
This offer applies exclusively to the Win/Draw/Win Markets (1x2).
When the selection wins, a 10% winnings boost, credited as cash, is added within 36 hours of the bet settling.
The maximum bet is $200, with any bets over this amount receiving the 10% boost only on the profit from the first $200 staked.
The maximum amount that can be gained from this promotion is $40,000.
Free bets do not qualify for the Soccer Parlay Special, and players must have deposited with PowerPlay before they can withdraw their winnings.
Cashback Bonuses and Loyalty Programs
Cashback bonuses are an excellent way to recover from losses. For instance, a 10% cashback bonus on losses means that if you lose $100, you'll receive $10 back as a bonus.
PowerPlay provides VIP and Loyalty programs that offer exclusive bonuses, personalized customer support, faster withdrawals, and special promotions to its loyal players. The promotional structure is designed to add value to all players, whether new or seasoned, making their experience even better.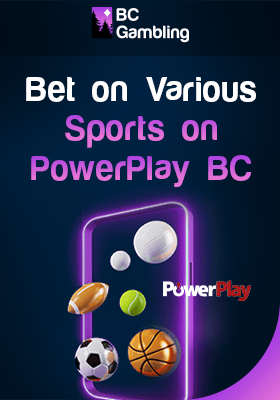 Betting on Different Sports on PowerPlay Sportsbook BC
Power Play stands out as a leading platform for sports gambling, offering a wide array of sports for enthusiasts to wager on. From football to hockey, it caters to a diverse audience and hosts gambling options on major sports events across the globe.
Sports You Can Bet On
The gambling landscape at the site is expansive, with numerous sports available for wagering. The sports that you can bet on include:
Australian Rules
Boxing
Football
Hockey
Snooker
Badminton
Cricket
Gaelic Football
Motor Sports
Soccer
Baseball
Cycling
Gaelic Hurling
Politics
Table Tennis
Basketball
Darts
Golf
Pool
Tennis
Boxing
eSports
Handball
Rugby
Virtual MotorSports
From traditional sports like football, basketball, and hockey, to modern eSports, the site caters to a wide variety of sports enthusiasts. Popular sports like soccer and hockey are known to attract a significant percentage of users, contributing to the platform's engaging and dynamic environment.
Betting on Major Sporting Events
Major sporting events like the Super Bowl, World Series, Stanley Cup Finals, FIFA World Cup, and more are also prominently featured on PowerPlay Sportsbook BC. These events see heightened gaming activity due to the worldwide interest they generate and the unique opportunities they offer.
PowerPlay boasts a wide range of gambling options for these popular sports. For instance, for hockey, bettors can place their wagers on NHL, AHL, World Championships, Canada QMJHL, and US ECHL. Football lovers can bet on various leagues including CFL, NFL, and NCAA Division I FBS.
When it comes to the 2022 FIFA World Cup, PowerPlay Canada stands as a preferred platform for football enthusiasts. It allows users to bet on a variety of World Cup markets, from predicting the overall tournament winner to wagering on individual games.
It also offers betting on political events, such as the US presidential election. Gambling extends beyond traditional sports, making PowerPlay a diverse platform that caters to a range of interests.
Esports Betting on PowerPlay Sportsbook BC
As the popularity of eSports continues to surge, this sportsbook has made it a priority to accommodate the growing eSports betting community. It provides gambling options across all the most popular eSports games including CS:GO, League of Legends, Overwatch, and Rainbow Six Siege.
Players can wager on individual matches or predict outright tournament champions, contributing to the appeal of eSports betting. With competitive odds and gaming tips offered across all major eSports tournaments taking place worldwide, PowerPlay has established itself as a go-to platform for eSports betting in Canada.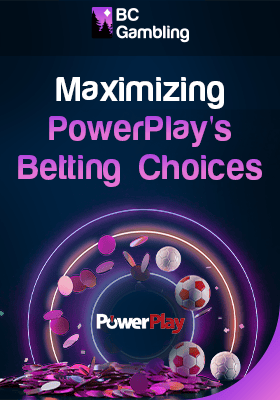 Making the Most of PowerPlay's Betting Options
Betting on sports is more than just a game of chance. It's a blend of knowledge, strategy, and understanding of the various gambling options. PowerPlay Sportsbook BC presents a wealth of opportunities for seasoned players and beginners alike, offering a wide range of games and strategies.
Types of Bets You Can Place
At PowerPlay, various types of bets can be placed to suit every bettor's preference and risk appetite. These include:
Single Bet: This is a wager on a single outcome, where your prediction must be correct to win.
Express Bet: This type of bet combines more than one prediction, requiring all bets to win for a positive outcome.
System Bet: A series of express bets where a specific number of these bets must be correct to win. For instance, if the bet is "System 4/6", 4 out of 6 predictions must be correct.-
Chain Bet: This is a combination of single bets placed on independent events, and the game continues until the chain is over or the total wagered amount is lost.
Additionally, the site also offers 90 Minute Betting, particularly relevant for football games, where bets are placed based on 90 minutes of play. Special bet types like 'Scorecast' allow players to predict the first goalscorer and the correct score.
Strategies for Making Wise Bets
Creating an effective gambling strategy requires a keen understanding of the sport, diligent research, and an eye for analyzing statistics. Following expert advice can also help gamers to make informed decisions. PowerPlay provides the platform and tools necessary to support these strategies.
Remember that the average ROI for sports gamblers is around 48%, making a disciplined, long-term approach critical for sustained success. This also includes understanding the concept of the 'vig' or the bookmaker's commission, usually about 8-10%.
To maximize ROI, aim to maintain a win rate of at least 55% over time. This approach allows gamblers to balance risk with reward, making the most of their power play strategies.
Understanding Betting Odds
Understanding the odds is key to successful wagering. PowerPlay offers odds in three formats - decimal, fractional, and American.
Decimal Odds: These represent the potential returns of a bet, including the stake. For example, if the decimal odds are 2.50 and you stake $100, your potential profit is $250.
Fractional Odds: Common in English-speaking countries, these odds show the potential profit relative to the stake. For instance, odds of 3/1 imply that for every $10 staked, you can win $30.
American Odds: Also known as Moneyline odds, these show how much you might profit if you bet $100 (positive numbers) or what you must stake to win $100 (negative numbers).
Choosing the correct odds format can make all the difference when placing a bet. After a simple powerplay login, players can view and select their preferred odds format, creating a tailored experience.
Advanced Betting Strategies on PowerPlay Sportsbook BC
Making the most of your experience involves more than just placing bets; it requires a strategic approach to maximize winning potentials and minimize losses. It's crucial to make informed decisions, manage your bankroll responsibly, and handle winning and losing streaks with composure. Let's review the strategies to elevate your Power Play sports gambling experience.
Research and Data Analysis
Effective gambling is more than a game of chance; it's a game of intelligence and strategy. Informed decisions result from thorough research and data analysis. Successful players leverage various sources of information such as:
Team and player statistics: Understanding the form, strengths, and weaknesses of the teams or players you're betting on is crucial. Analyzing performance trends can shed light on potential outcomes.
Injury reports: Player injuries can significantly impact a team's performance. Thus, monitoring injury reports can inform bet placement decisions.
Weather conditions: In some sports, weather conditions can affect gameplay, influencing the outcome of matches.
Data suggests that successful players spend a considerable amount of time on research. The correlation between research efforts and success has been proven consistently; players who leverage comprehensive data analysis are more likely to make profitable decisions.
Bankroll Management
An essential aspect of a successful gambling strategy is prudent bankroll management. It is crucial to set a budget and stick to it, as it helps to prevent compulsive gambling and the risk of significant losses. Here are some tips:
Establish a betting budget: Your bankroll should be an amount you can afford to lose. A range of $200 to $500 is typically a reasonable starting point, but it varies depending on individual financial circumstances.
Set betting limits: A common strategy is to wager a fixed percentage of your bankroll on each bet. For example, betting 5% of a $500 bankroll means a $25 stake per bet.
Track your plays: Keeping a record of your bets helps evaluate success based on the results and identify potential areas for improvement.
Statistics suggest that players who practice responsible bankroll management typically enjoy more sustainable success.
Handling Winning and Losing Streaks
Maintaining discipline during winning and losing streaks is a key component of effective gambling strategy. Here are some strategies:
Stay focused: Winning streaks can breed overconfidence, and losing streaks can trigger desperation. Both states can lead to reckless gambling. It's vital to stay focused, regardless of your outcomes.
Avoid impulsive bets: Resist the temptation to "chase" losses with larger bets or to place large bets during a winning streak. Always stick to your established plan.
Learn from losses: A losing streak can provide valuable insights. Analyze it for potential adjustments to your strategy.
On average, even the most successful players experience losing streaks. The key to long-term success lies not in avoiding losses but in managing them effectively.
Remember, PowerPlay Sportsbook BC offers a platform for entertainment and potential profit, but it's crucial to approach gambling responsibly. The right blend of research, disciplined bankroll management, and emotional control can lead to a rewarding experience.
Banking & Customer Support Options
Navigating the financial and customer support options on Power Play can significantly enhance your gaming experience. Understanding how to deposit and withdraw funds efficiently and how to access customer support when needed are crucial aspects. Let's review these topics.
Depositing and Withdrawing Funds
Depositing and withdrawing funds with PowerPlay Sportsbook BC is a straightforward process, with a variety of options available for users in Canada:
Deposit methods: The site supports various deposit methods, including Interac e-Transfer, Interac Online, Visa, Mastercard, CRYPTOPAY, MuchBetter, and ecoPayz. The minimum deposit is $10, and the maximum is $200.
Withdrawal methods: To cash out your earnings, you can use Visa, Mastercard, EcoPayz, MuchBetter, Interac e-Transfer, and CRYPTOPAY. The average processing time for these methods ranges from immediate to 4 hours, though larger sums may take longer to ensure accuracy and legality.
Instructions for linking bank accounts, using credit/debit cards, or employing other payment methods can be found in the site's "Help" section.
Resolving Disputes with PowerPlay Sportsbook BC
If disputes or issues with transactions, bets, or promotions arise, it's essential to know how to seek resolution:
For failed credit card payouts: Some banks restrict online gambling payouts to a credit card. In such cases, it's advisable to contact your bank or use an alternative payout method. PowerPlay's customer support can provide information about the best alternative options.
For charged but declined debit/credit card deposit: When a deposit is declined, the funds are temporarily reserved by the card issuer. They are usually released back shortly after, but the time can vary between card issuers. Contacting your bank can expedite this process.
The platform's support team is available to guide users through resolving these issues.
Accessing Customer Support
The PowerPlay Sportsbook BC's customer support team is accessible via various channels:
24/7 Live Chat: Get real-time responses to your queries anytime.
Email: You can send an email to [email protected] for non-urgent matters or detailed inquiries.
Phone: For more immediate or complex issues, you can call 1-833-578-1331.
These channels are designed to ensure prompt resolution of issues, with the average response time being impressively quick. The platform has received positive feedback from users regarding the efficiency and helpfulness of its customer support, contributing to an overall satisfactory experience.

Ensuring Safe and Responsible Betting
In an era where online gaming has become a standard form of entertainment, ensuring safe and responsible gambling practices is critical. PowerPlay Sportsbook BC, recognizing the importance of this matter, has developed an ecosystem where the safety and well-being of its users is the top priority.
The platform has a wide range of tools and measures to ensure user safety, data protection, and responsible gambling. It further strives to assist those who may struggle with gambling addiction. This commitment towards safety and responsibility makes the Power Play sports gaming experience reliable and enjoyable, enhancing user trust and loyalty.
PowerPlay's Security Measures
To provide a secure environment for online gambling the site employs robust security measures to safeguard user data and transactions:
Licensing and regulation: PowerPlay.com operates under a license from C.I.L. Curacao Interactive Licensing N.V., a legitimate regulatory body based in Curacao. This license ensures that PowerPlay operates within strict parameters that protect the users.
Data encryption: PowerPlay.com uses SSL encryption, a common protocol among reliable online casinos and financial institutions. This method secures users' financial and personal information, making the site safe and secure.
How to Bet Responsibly
In an effort to promote responsible gambling and ensure a healthy and balanced experience, Power Play advises its users to follow these guidelines:
Gambling as an entertainment: Treat gambling as an entertainment, not a source of income. Never gamble more than you can afford to lose.
Set limits: Use deposit limits to manage your spending and never try to chase your losses.
Keep track of time: Use tools like Reality Checks to remind yourself of your log-in duration.
Diversify entertainment: Ensure gambling isn't your only source of fun.
Take breaks: Continuous gambling can lead to losing track of time and perspective.
Don't Gamble Under Stress: Avoid gambling under influence or emotional distress.
Monitor gambling habits: You can track your activity using your online account history.
Understand Betting: Understand the odds and how the betting works.
Reach out: If you ever need to talk about problem gambling, you can contact a problem gambling support organization.
Identifying and Handling Problem Gambling
Problem gambling can be a significant issue that can severely impact a person's life. Recognizing the signs and symptoms of problem gambling is the first step towards addressing it. If you notice the following signs, consider seeking help:
Using gambling to escape life's issues
Feeling lost or desperate without money to gamble
Lying about the amount of time or money spent gambling
Losing interest in family, friends, or hobbies due to gambling
Trying to win back losses immediately after losing
Gambling in response to arguments, frustrations, or disappointments
Feelings of depression or self-harm because of gambling
Recognized support organizations can offer invaluable assistance if you or someone you know struggles with problem gambling. Resources such as Gamblers Anonymous (www.gamblersanonymous.org) and Gambling Therapy (www.gamblingtherapy.org) provide free practical advice and emotional support. They offer global services, including email and live chat support 24/7, and lists of local organizations for further help.
Experiences of Successful Players on PowerPlay Sportsbook BC
As the site continues to gain popularity among sports gambling enthusiasts, numerous success stories have begun to emerge from users. These experiences, often punctuated by victories and lessons learned, provide insights into the strategies and mindsets that drive successful gambling. This section explores these stories, providing valuable insider tips and discussing the common challenges faced in sports gambling.
Success Stories from PowerPlay Users
From small but steady gains to record-breaking wins, this sportsbook has been home to an array of inspiring success stories. Users often attribute their achievements to strategic planning, in-depth knowledge of the sport, and consistent gambling practices. Personal anecdotes reflect a diverse range of experiences, with each player narrating their journey towards success with excitement and pride.
For example, a dedicated PowerPlay sports player, John, turned a modest wager into a significant payout during the NHL playoffs, demonstrating the potential for returns in sports wagering. Another user, Lisa, turned her passion for soccer into a profitable hobby by consistently predicting outcomes in the English Premier League. These experiences not only showcase the exciting possibilities that PowerPlay offers but also inspire other users to hone their gaming skills and strategies.
Insider Tips from Successful Players
Successful players often emphasize the importance of strategic thinking and detailed knowledge in increasing the chances of winning bets. They provide several valuable tips and recommendations, including:
Understanding the sport thoroughly: Knowledge about teams, players, and recent trends is crucial.
Analyzing odds and potential outcomes: Successful bettors often spend considerable time analyzing odds and making informed decisions.
Managing your bankroll: Successful bettors stress the importance of managing your budget and not chasing losses.
Diversifying bets: Experienced bettors often diversify their bets across different sports or bet types to mitigate risk.
Adopting these strategies has reportedly improved the success rate of many bettors on PowerPlay Sportsbook BC, contributing to their overall experience.
Overcoming Challenges in Sports Betting
Betting on sports can come with its fair share of challenges and obstacles. Successful bettors on PowerPlay have shared various strategies to overcome these hurdles:
Managing emotions: Successful bettors often stress the importance of keeping emotions in check, making decisions based on analysis rather than sentiment.
Learning from losses: Losses are part of the journey. Successful players see them as learning opportunities rather than setbacks.
Adapting to changes: Sports are unpredictable, and conditions can change rapidly. The ability to adapt your strategies to these changes is essential.
These strategies have reportedly helped many users on PowerPlay to bounce back from losses and maintain a positive attitude towards their gaming journey. With perseverance and adaptability, users can turn the challenges of sports gaming into stepping stones for success.

Understanding the Legal Aspects of Sports Betting in BC
Whether you're new to sports gaming or an experienced player, it's important to know the legal aspects. This section will explain the rules for sports gambling in British Columbia, Canada, how Power Play follows the regulations, and the taxes on winnings in the province.
Legal Status of Sports Betting in BC
Sports gambling is not only popular but also legal in Canada, with regulation taking place at the provincial level. British Columbia, like other provinces, has its unique set of rules and regulations pertaining to this domain. Until recently, Canadian law only allowed players to wager on multiple games together, restricting them from wagering on individual games. However, with the Criminal Code amendment in August 2021, single-event sports gambling became legal, widening the options and creating fresh opportunities for players.
This development in legislation, along with the right licensing, has enabled platforms like PowerPlay to offer fully legal and regulated sports wagering services. PowerPlay's contribution to the economy has been significant, with tax revenues from wagering becoming a vital economic asset.
PowerPlay's Compliance with BC Gambling Laws
In line with the regulations in British Columbia, PowerPlay Sportsbook BC is committed to ensuring full legal compliance. Licensed and regulated by the Malta Gaming Authority, it implements the latest encryption technology for robust protection of personal and financial data of its users.
In addition, the platform maintains a strong track record of adherence to the gambling laws of BC. There is no history of legal issues, further underscoring its commitment to providing a secure and legally compliant environment for its users.
Tax Implications of Sports Betting Winnings in BC
In Canada, the winnings from sports gambling fall under a unique category in the tax regulations. According to paragraph 40(2)(f) of the Income Tax Act, Canadians are exempt from paying taxes on gambling winnings. This encompasses earnings from horse racing, sports gambling, lotteries, online casinos, and other games of chance.
However, it's important to note that while the winnings themselves aren't taxed, any interest earned on these winnings is subject to taxation. Players must legally declare this interest via a T5 form. Failing to do so can result in substantial fines.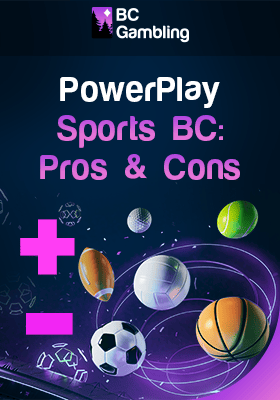 Pros and Cons of PowerPlay Sports BC
PowerPlay has garnered a reputation for its services, and like all platforms, it has its strengths and weaknesses. The following analysis presents a comprehensive overview of the pros and cons of using this platform, focusing on user experience, market variety, promotions, customer support, and potential downsides.
Advantages of PowerPlay Sportsbook BC
The site boasts several noteworthy advantages that appeal to users. They include:
The site's gaming odds are some of the best in the industry, providing users with promising returns on successful bets.
It offers an expansive array of sports markets, providing a plethora of options for sports enthusiasts to wager on their favorite sports and leagues.
The platform's sleek and intuitive website design enhances user experience by facilitating easy navigation and making information readily accessible.
Supporting these advantages are high user satisfaction rates and positive ratings, evidencing the site's commitment to providing an optimal experience for its users.
Disadvantages of PowerPlay Sportsbook BC
Despite its many advantages, the platform has areas for improvement, as highlighted by the following cons:
The platform currently does not support live streaming of sports events, which is a feature that many users appreciate for in-play gambling.
It does not offer a mobile app, potentially limiting accessibility for users who prefer mobile gaming.
While the site offers competitive odds on many sports, the odds for U.S. sports tend to be below average compared to other platforms.
The absence of dedicated apps limits the options for users seeking specific utilities or enhanced mobile experience.
These aspects have been noted in user feedback, and while they do not detract from the overall quality of the platform, addressing these areas could further enhance user satisfaction.
Other Great Sportsbooks in BC
While PowerPlay is a well-regarded gaming platform, it's important to note that it's not the only option available for bettors in British Columbia. Depending on personal preferences and needs, other sportsbooks may prove to be a better fit. This section explores some of the other noteworthy sportsbooks in the province.
TheScore Bet: Known for its extensive sports coverage and competitive odds, TheScore Bet also boasts a user-friendly platform that appeals to both new and experienced players.
FanDuel: FanDuel offers a wide range of gaming options, live streaming options, and strong customer support. It also provides an attractive offer for first-time players: a risk-free bet up to $1,000. If the first wager is lost, FanDuel returns the stake as Sportsbook Bonus up to $1,000.
Bally: This platform is popular for its attractive promotions and user-friendly interface. It also enjoys a strong reputation in the gaming industry.
PointsBet: PointsBet's collaboration with the British Columbia Lottery Corporation (BCLC) and its focus on responsible gambling make it a trustworthy choice for many.
BetMGM: BetMGM provides extensive sports coverage, live gaming options, and a user-friendly mobile app. Their new customer offer includes a $1,000 First Bet offer, providing the amount back in Bonus Bets if the first bet is lost.
Key Factors to Consider
Choosing the right sportsbook involves considering several factors. These include the user experience, the range of available sports markets, gaming options, promotions, odds, customer support, and security. Different players may prioritize different factors, so it's crucial to evaluate which aspects are most important to you.
Here are some guidelines to help in selecting the right sportsbook:
Betting Markets: Consider the range of sports and betting markets that a platform offers. This should align with your interest and knowledge of specific sports.
Promotions and Bonuses: Examine the promotional offers and bonuses. These can provide added value, especially for new players.
Odds and Payouts: Compare the odds and potential payouts offered by different sportsbooks. Higher odds can lead to larger winnings.
User Interface: Evaluate the platform's usability and design. A user-friendly interface can enhance your gaming experience.
Customer Support: Check the quality of customer support. Good customer service can be crucial if you encounter any issues.
Security: Ensure that the sportsbook is licensed and regulated, providing a secure gaming environment.
Before settling on a sportsbook, it can be helpful to compare different platforms, read user reviews, and even test multiple platforms to see which one meets your needs best. After all, the goal is to find a sportsbook that provides a comfortable, secure, and enjoyable experience.
PowerPlay Sportsbook Score Verdict by BCGambling.ca
Bonus and Promotions Rating: 5/5
Bonuses and promotions can easily be accessed from the main page. By clicking on 'Offers', users are redirected to a comprehensive promotions and offers page. Powerplay offers multiple promotions including free bets, and maintains a low wagering requirement of 10x along with a minimum deposit of just $10 CAD. Moreover, a well-structured loyalty program enhances the user experience.
Sportsbook Experience Rating: 3.8/5
PowerPlay provides a versatile sportsbook, encompassing live betting, horse racing, and eSports, effectively covering all bases. Their helpful tips and betting guides are a great resource for beginners. In addition, Powerplay features an excellent online casino to diversify the betting experience.
Banking Department Rating: 5/5
Regarding the banking services, PowerPlay falls short of expectations. Although all supported banking options are displayed in the website's footer, the lack of a dedicated banking page and specific information on fees or withdrawals impairs the transparency. Furthermore, the sportsbook does not support cryptocurrency.
Fair Play and Safety Rating: 3.75/5
PowerPlay fares decently in the domain of fair play and safety. The brand is licensed and regulated by the C.I.L. Curacao Interactive Licensing N.V., and clear terms and conditions are readily available for users to view.
Responsible Gambling Rating: 5/5
PowerPlay emphasizes the importance of responsible gambling. Their dedicated section brims with informative resources for players, making this an area of strength for the platform.
Usability & Compatibility Rating: 4/5
The site is designed to be user-friendly and straightforward. An option to change languages enhances accessibility for a wider audience. They are currently developing a mobile app to expand their reach and usability.
Customer Support Rating: 2/5
While PowerPlay does offer live chat support, it is somewhat hidden and could be made more accessible. The hours of operation are unclear which may lead to some confusion. A FAQ style Help page is available, but the platform does not have a formal complaint submission process in place, an area they could look to improve upon.
FAQs
What is PowerPlay Sportsbook BC?

It is a leading online sports gambling platform in British Columbia, Canada. It offers a wide range of sports markets, competitive odds, and a user-friendly interface for bettors.

Is sports betting legal in British Columbia?

Yes, it is. PowerPlay is one of the fully licensed and regulated platforms. Bettors can place wagers on various sports events without any legal repercussions.

What are the key features of Power Play Sportsbook BC?

The site features competitive betting odds, a wide variety of markets, and a sleek website interface. However, note that it currently does not offer live streaming or mobile app functionality.

Are sports betting winnings taxable in BC?

No, according to Canadian law, the winnings from sports gambling are not subject to taxation. However, any interest earned on these winnings is taxable and must be legally declared.

Are there other reputable sportsbooks in BC apart from PowerPlay?

Yes, there are other notable sportsbooks in British Columbia, such as TheScore Bet, FanDuel, Bally, PointsBet, and BetMGM.
Conclusion - Edior's Score Verdict: 4.3/5
To recap, this article has provided a comprehensive overview of PowerPlay Sportsbook BC, its successful players, legal aspects, advantages and disadvantages, and a comparison with other great sportsbooks in British Columbia. As illustrated on BCGambling.ca, PowerPlay's track record, from its success stories to its diligent compliance with BC's gambling laws, demonstrates its commitment to providing a secure and rewarding environment.
PowerPlay has much to offer, with compelling odds, a diverse range of gaming options, and an accessible platform. Despite some drawbacks, such as the lack of live streaming and a dedicated mobile app, it still offers a sleek, user-friendly experience that many players appreciate. With a quick powerplay login, the players can access numerous opportunities and enjoy the thrill of sports gaming.
In conclusion, the value that PowerPlay provides to players is clear, and its position among other outstanding sportsbooks in British Columbia further validates its credibility. Whether you're a seasoned player or a novice, it's worth considering PowerPlay as a potential platform for your sports gaming activities. Furthermore, it's essential to make informed decisions, carefully considering factors such as available markets, promotions, and user experience when choosing a sportsbook. Keep an eye out for upcoming features, enhancements, or promotions on PowerPlay that could further enrich your experience and provide even more opportunities to win.
Review details
Reviewer:
Meri Zimic
Date Reviewed:
July 26, 2023
Reviewed Casino:
PowerPlay Casino
Editor's Rating:

PowerPlay Casino
100% Match Bonus
+ Up to $1000
Claim Offer