The iGaming industry is vast, and while numerous software options are available, not all are created equal. It's crucial for BC players to align themselves with top online casino software providers to guarantee both fun and fairness in their gambling endeavors. By diving deep into the nuances of these platforms, gamblers can be well-informed and make choices that align with their wagering preferences and safety considerations.
Endorsed by BCGambling.ca, this guide strives to be the definitive resource for BC wagerers. Through carefully exploring different software platforms and their features, BC players can arm themselves with the knowledge necessary to navigate the online gambling world with confidence and security. Whether you're a seasoned gamer or a novice, this guide offers valuable insights to enhance your online gambling journey.

Top Online Casino Software Developers for BC Players
In British Columbia, a handful of online software providers stand out, each catering uniquely to the varied preferences of gamblers in the region. As the province's gambling enthusiasts navigate this aspect of the iGaming industry, understanding the software platforms that power these digital experiences is crucial. In the following sections, we delve into the distinct qualities that make each software provider resonate with BC players.
Microgaming
Microgaming has etched its mark among the best casino software providers, particularly in British Columbia. Established in 1994, Microgaming is widely acknowledged as a pioneer game developer. Its legacy includes a vast library of over 600 titles, encompassing slots, blackjack, baccarat, and roulette, among others.
Its blend of nostalgic and modern designs endears this platform to the BC wagering community. Notably, titles like Mega Moolah, Jurassic Park, and Thunderstruck II are a testament to Microgaming's commitment to delivering quality and variety.
Moreover, the company's progressive jackpot network, having distributed over $1 billion in rewards, speaks volumes about its player-centric approach.
Most Popular Microgaming Slots:
Slots
RTP
Volatility Paylines
Mega Moolah
88.12% High
25
Jurassic Park
96.67% High
243
Break da Bank Again
95.43% High
9
Lucky Leprechaun
96.83% Medium
20
Thunderstruck 2
96.65% Medium
243
NetEnt
NetEnt is a Sweden-based online casino software provider founded in 1996 and as since holds a significant position among its peers.
The company is renowned for its high-quality, visually captivating video slots, table games, and a progressive jackpot network that has disbursed over €500 million in rewards. Popular titles such as Starburst and Gonzo's Quest have captured the imagination of British Columbians.
NetEnt's games are not just about aesthetics; their functionality on the latest mobile devices is impeccable. This seamless integration, combined with their licensing agreements for titles like South Park, has positioned them as a favorite among BC bettors.
Most Popular NetEnt Slots:
Slots
RTP
Volatility
Paylines
Jack Hammer 2
97.10%
Low
99
Gonzo's Quest
96.00%
Medium to High
20
Starburst
96.01%
Low
10
Twin Spin
96.60%
High
243
Narcos
96.23%
Medium to High
243
Playtech
Headquartered in the Isle of Man, Playtech offers a comprehensive wagering experience for BC players. Since its inception, Playtech has consistently innovated, proactively identified and delivered what users seek, whether live dealer tables, bingo, sports, or virtual games. This makes it one of the most remarkable software for BC bettors.
Besides its regular titles, Playtech's slot games, inspired by popular comics and movies like The Matrix and Iron Man, further elevate its appeal. The presence of a diverse portfolio, combined with cutting-edge technology, makes it one of the frontrunners among its competitors.
Most Popular Playtech Slots:
Slots
RTP
Volatility
Paylines
Age of the Gods
95.02%
Medium to High
20
Green Lantern
94.95%
Medium to High
243
Frankie Dettori's Magic Seven
95.99%
Low to Medium
25
Buffalo Blitz
95.96%
High
4096
The Matrix
95.14%
Medium to High
50
Evolution Gaming
Evolution Gaming is a prime choice for British Columbians seeking an authentic live casino experience. This platform, founded in 2006, revolutionized the iGaming world with advanced studios designed to recreate the Las Vegas experience.
Bettors can engage with professional dealers in real-time, playing Live Blackjack, Deal or No Deal Live and other live dealer games. Evolution Gaming's commitment to player safety, fair gameplay, and its innovative Bitcoin casino game capabilities further accentuate their allure for BC players.
Most Popular Live Casino Games from Evolution:
Slots
RTP
Live Lightning Roulette
97.30%
Live Blackjack
99.29%
First Person Roulette
97.30%
Dream Catcher
96.58%
Deal or No Deal Live
95.42%
Yggdrasil Gaming
A relative newcomer, Yggdrasil Gaming was established in 2013 in Malta and has quickly risen through the ranks of online game providers. Known for its creative and forward-thinking approach, Yggdrasil has introduced standout titles such as Valley of the Gods and Vikings Go Berzerk.
Yggdrasil's constant innovations, coupled with its sleek and modern graphics, make it a top pick for BC wagerers. They are not only committed to delivering aesthetically pleasing games but also focus on offering significant rewards through their mega and local progressive jackpots.
Most Popular Yggdrasil Gaming Slots:
Slot
RTP
Volatility
Paylines
Vikings Go Wild
96.3%
Low to Medium
25
Cazino Zeppelin
96%
High
20
Valley of the Gods 2
96%
High
240 to 20160
Holmes and the Stolen Stones
96.8%
Low
20
Calavera Crush
96%
High
None
Each platform we've discussed offers unique attributes that cater to BC players' preferences. Making informed decisions when gambling means understanding these platforms and their offerings. BCGambling.ca aims to provide readers with factual information, helping bettors navigate the iGaming world and bonuses in British Columbia.

Features to Look for in Quality Casino Software
When wagerers start gambling, one of the essential elements that enhances or diminishes their experience is the game provider powering the platform. For British Columbia players aiming to get the most out of their gaming sessions, understanding what features constitute quality in game titles is paramount. This section delves into the factors one should consider when evaluating the best casino software and how they influence seamless and rewarding gameplay.
Theme: The aesthetic and overall feel of the game set the stage for players. It should resonate with them and align with their preferences.
RTP (Return to Player): This percentage gives bettors a rough idea of the potential return they can expect over a prolonged gameplay session.
Graphics and Sound Quality: High-quality graphics and immersive sound create an engaging gambling environment, enhancing the overall experience.
Platform Flexibility: Whether the software requires downloading or can be accessed directly from a browser is crucial for user convenience. Also, in today's digital age, having a responsive and seamless mobile version of the software is non-negotiable.
Free Play or Pay-to-Win Format: Players should know if they can access demo versions or if real money gameplay is mandatory.
Welcome Bonus Features: A software provider that integrates appealing bonus features becomes more enticing to bettors.
Reputation of the Providers: A reputable game provider is a testament to reliability, quality, and trustworthiness.
Game Diversity: The variety and range of games available are pivotal for users seeking new experiences and challenges.
Customer Support: Efficient customer service indicates that the company prioritizes bettors' concerns and issues.
In today's digital age, software studios are much more than just a tool to facilitate games. They are the heartbeat of any online operator, dictating the pace, quality, and diversity of the wagering experience. The growth of online gambling sites in British Columbia and beyond has intensified the role of online game providers. These entities have transitioned from mere developers to essential partners in the gambling ecosystem.
Historically, gambling operators often developed their software, but recently, there has been a paradigm shift. Specialized gaming companies - seasoned and new - craft innovative solutions that operators integrate into their platforms. While proprietary software is still in use, including third-party providers has become increasingly common. This collaborative approach enriches the wagering catalog, offering bettors various titles with unique features and designs.
In essence, the game provider determines the diversity of games, the rules governing them, the overall quality of the titles, and even the odds wagerers face. Thus, for players in British Columbia and beyond, recognizing and understanding the components of the best casino software becomes essential in ensuring a fulfilling gambing experience.
The Evolution of Online Casino Software
From its nascent stage to today's modern intricacies, online gambling has transformed due to technological advancements and user preferences. These transformative milestones have redefined the digital gambling experience, shaping the expansive iGaming landscape.
The Genesis: First-generation Online Casinos

The maiden voyage of online casinos began in 1994. Vying for the title of the first-ever online operator, pioneers, Microgaming and The Gaming Club provided only a basic range of services. As online casino software began to develop, by 1996, platforms like InterCasino and FruityKing emerged, catering to an international audience.

A pivotal role in this burgeoning industry was the legislative foresight of Antigua and Barbuda in 1994, which paved the way for this digital evolution. Early operators like FruityKing could offer only a handful of games, leading to skepticism among traditional gambling enthusiasts.

Noticing this potential, game studios crafted versions of beloved games from the 90s, particularly slots and card games, for the budding online community. Yet, the growth was gradual, primarily because only a minority had quality internet access during this period.

Milestones in Gaming Graphics and Experience

A decade after the emergence of the first online operators, tangible advancements in the betting experience became evident:

Slots witnessed a creative overhaul, deriving inspiration from Hollywood epics, historical epochs, and far-off cultures.
Despite the aesthetic improvements, the mechanics and algorithms of the online game providers were enigmatic, causing hesitation among potential users.
The introduction of the random number generator heralded a new era. It ensured:

Transparency about the house edge.
Disclosure of the average return to player.
A method to anticipate the long-term game dynamics.

Crypto gambling sites added another layer of assurance with the "provably fair" concept, letting bettors validate game fairness.
Modernity in online gambling software is captured in its adaptability to mobile platforms. Present-day offerings:

Ensure compatibility with smartphones and tablets.
Offer browser-based play and dedicated applications as portals to an extensive gambling library.

Adoption of AI and Machine Learning in Casinos

The integration of AI and machine learning has been a game-changer in refining the online gambling experience:

Leveraging AI and ML for Personalization: Contemporary online operators, teeming with diverse games, harness AI and ML to deliver unparalleled personal experiences. Insights from these technologies help:

Recognize patterns in bettors' behavior.
Suggest games in line with user preferences.
Strategically time promotional offers or bonuses.

Breathing Life into Games: The marriage of AI and ML with online gambling titles development has borne fruit in the form of dynamic games. Characters, no longer mere pixels, evolve, resonating with the patron's vibe and offering an intensely immersive experience.
Predictive Analytics for Game Design: ML aids iGaming developers in optimizing game design. By analyzing bettors' data, developers discern what elevates or dampens the gaming experience. This invaluable feedback streamlines game iterations, ensuring they resonate with the audience.
AI and ML: The Future Game Changers in Casino Gaming: The robust presence of AI in the industry is unmistakable. Platforms tuned in real-time to wagerers preferences, coupled with VR and AR's potential, heralding a promising future brimming with exhilarating opportunities for the iGaming industry.

Incorporating AI and ML into the online casino software framework has not only made gaming more interactive but has also elevated the roles of game developers and online game developers.

Games and Software Innovations
In recent years, the gambling industry has witnessed a plethora of innovations in games and software that have immensely elevated the gambling experience for BC players. One doesn't simply indulge in the standard table games anymore; the technology-backed diversity in games is vast, dynamic, and incredibly engaging. Through the lens of the iGaming developers, let's explore the marvels that have shaped the market.
Top Casino Games
BC gamblers have an array of casino games to choose from, thanks to the diligent efforts of game developers. Some of these include:
Slots: Bettors spin the reels, aiming to match symbols on paylines for potential payout, bonus features, and jackpots
Roulette: An all-time classic where bets are placed anticipating where the ball will land on the spinning wheel. Its allure lies in the potential for significant payouts.
Baccarat: You engage in this card game where they bet on a hand closer to 9. Bettors have three bet options: the player, bank, or tie.
Blackjack: A lively card game; here, you aim to get a hand value of 21 without surpassing it. The thrill? Everyone's playing against the dealer.
Texas Hold'em: This poker variant sees wagerers squaring off to form the best possible hand. It's a skill-based contest, rich in strategy and competition.
Craps: Dice roll to dictate the fate in this game, offering multiple winning avenues with some of the best odds.
Bingo: A leisurely-paced game of chance, punters match numbers on their cards to those randomly announced by the caller.
Keno: Resembling a lottery, you select numbers, hoping they align with those randomly drawn. This game offers the thrill of significant payouts with minimal entry fees.
Video Poker: One of the game studios' pride, this machine-based poker variant lets bettors indulge in strategic gameplay, much like traditional table poker, but at a distinct pace.
Introduction to Live Dealer Games
Going in-depth on online casino software, the emergence of live dealer games stands out. These games, hosted by actual 'live' dealers, offer a virtual experience that many believe parallels that of brick-and-mortar casinos. It's a boon for those who yearn for the offline gambling ambiance but can't visit a land-based operator. The uniqueness of live dealer games lies in the real-time gameplay. Instead of relying on a random number generator, an actual dealer, streaming live, deals the card. When seeking the best live game experience, bettors often look for:
Safe deposit and withdrawal methods
Competitive bonuses with high RTP percentages
Engaging live dealers, sometimes interactive through chat
A broad spectrum of games
Stellar customer support
These aspects, when checked, ensure a seamless and pleasurable live casino experience.
Software Behind Real-time Streaming
The cornerstone of the authentic live dealer experience is the technology that facilitates it. A significant breakthrough in this realm has been the Орtісаl Саmеrа Rесоgnіtіоn Тесhnоlоgу. This innovation, a brainchild of leading casino game developers, captures every minute detail in the gaming room and transmits it to you via a video link. Everything, from the shuffling of cards to the spinning of the wheel, is registered and converted into electronic data through OCR. This ensures that bettors' experience mirrors the authenticity and thrill of land-based operators.

User Experience and Interface Design
The iGaming industry thrives on continuous innovation, and at the heart of this evolution lies the importance of user experience (UX) and interface design. The core of any successful online casino software is its ability to provide wagerers with engaging, easy-to-navigate, and immersive games. As game studios work to outdo one another, the focus on intuitive design has become paramount in ensuring bettors' retention and satisfaction.
Importance of Intuitive Design in Online Casinos
When diving into online gaming, the design can make or break a user's experience. Here's why an intuitive and user-friendly design is vital:
Seamless Player Experience: iGaming software developers understand that creating an immersive gambling environment requires more than just flashy graphics. The user's journey should be smooth, from logging in to cashing out. If the wagerer struggles to understand game rules or spends too much time figuring out controls, the software fails to deliver a seamless experience.
Engagement and Retention: A well-designed UX ensures users are not only attracted to the game but are also motivated to return. Features like progressive bars, badges, and counters hint at uncompleted tasks or challenges, subtly urging gamblers to continue playing.
Emotional Connection: The user interface can evoke powerful emotions in players. Background music, the game's environment, and storylines can deeply influence a user's emotional connection to a game. Such elements are vital in making games memorable.
Most User-friendly Online Casinos for BC Players
For BC bettors, the following online casinos have made a mark by offering user-friendly interfaces and seamless navigation:
Wheelz

A standout for its responsive design, Wheelz provides players with a hassle-free experience. The platform is crafted for smooth navigation, allowing gamers to easily discover new titles or find their favorite games in no time.

Jet Casino

Jet Casino shines with its rapid load times and clear game categorizations. Its user-centric interface, complemented by quick-access buttons for support and promotions, ensures that players spend less time searching and more time gaming.

LeoVegas

Often dubbed the "King of Mobile Casino", LeoVegas offers an unparalleled mobile gaming experience. With its app-like interface on browsers and extensive mobile game library, it's a top pick for those who prefer gaming on the go.

PlayOjo

What makes PlayOjo unique is its transparency and no-wagering requirements on bonuses. The platform is designed for clarity, ensuring that players are never left in the dark about terms, promotions, or game rules.

Wildz Wildz

Casino is all about personalized gaming. With its adaptive game recommendations and a user interface tailored to individual preferences, players are given a curated experience, making it easier to dive into games they love.
As the saying goes, "the devil is in the details." The iGaming industry is super competitive; the platforms that load faster, look sleeker and prioritize user experience rise to the top. With casino software and graphics advancements, bettors expect nothing less than a state-of-the-art experience from their chosen iGaming providers.
Improving User Experience: What Players Want
For an online gambling operator to be successful, it must align its offerings with user preferences. Here's what BC players prioritize in their gaming experience.
Social Proof: Players like to know they are part of a larger community. By showcasing the number of active users or recent winners, gambling sites can leverage social proof to attract more users.
Valuable Incentives: Operators that offer bonuses, free spins, or other valuable incentives just for signing up instill a sense of reciprocity.
Engagement: Bettors appreciate platforms that allow them to share their preferences, favorite games, and feedback. This not only fosters commitment but also consistency in the gaming experience.
Limited-Time Offers: Scarcity drives demand. By offering limited-time promotions or personalized deals, gambling platforms can enhance user engagement.
Trial Periods: Offering games for free, with an option to opt-out, taps into the gambler's loss aversion tendencies.
Live Dealer Games: Live casino software rapidly evolves to cater to these preferences, ensuring the real-time experience is as close to a physical operator as possible. By continuously updating their offerings, gaming studios ensure that the gaming world remains dynamic, thrilling, and customer-centric.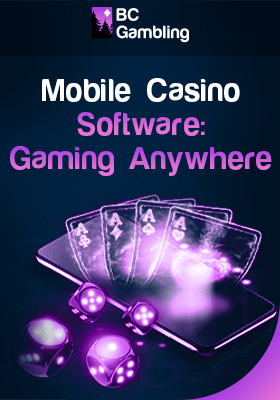 Mobile Casino Software: Playing on the Go
The evolution of online casino games has made mobile gaming a cornerstone of the gambling industry, particularly for BC players. As the world increasingly relies on mobile devices, game studios are capitalizing on this trend to provide more convenience and accessibility.
Best Mobile Casino Apps for BC Players
While the mobile gambling landscape is vast, specific platforms distinguish themselves by offering outstanding bonuses to their patrons. For BC gamblers who prioritize value and opportunity, these enticing offers are crucial in selecting an online platform. Below, we've detailed some of the most generous bonuses top mobile casino apps offer.
Spin Casino: Catering to new and seasoned bettors, Spin Casino showcases a bountiful sign-up bonus. New customers can enjoy a significant 100% match on their initial deposit, reaching up to C$1,000. This offer sets the stage for an exhilarating gaming journey right from the start.
JackpotCity: Recognized for its diverse gaming portfolio, JackpotCity entices users with an unmatched bonus offer. Those making their first deposit are awarded a 100% match, potentially adding up to C$1,600 to their gaming account.
Ruby Fortune: Tailored for newcomers eager to dive into online gaming, Ruby Fortune offers a lucrative welcome deal. New patrons can benefit from a 100% match on their first deposit, with the bonus capping at C$750.
Betway: A cornerstone in mobile gaming, Betway amplifies the player experience with its generous bonus offers. Gamers making their initial deposit can expect a 100% match, potentially boosting their bankroll by up to C$1,800.
Royal Vegas: Renowned for its exceptional slot collection, Royal Vegas further captivates wagerers with its bonus offerings. Those eager to immerse themselves in slot action can avail of a 100% match on their first deposit, going up to a hefty C$877.
Mobile vs. Desktop Casino Experiences
The ongoing discussion on the merits of mobile versus desktop gambling experiences is ever-present among BC players. Each platform has unique advantages that cater to distinct preferences and gaming styles. To give a clearer picture, here are the key benefits of both mediums detailed in bullet points:
Benefits of Mobile Gaming
Play on the Go: With the advent of HTML5, BC wagerers are no longer confined to a specific location. Mobile gaming offers the luxury to engage in casino games from virtually anywhere, be it during a commute, at a café, or even while traveling.
Rapid Technological Advancements: Mobile devices, backed by industry leaders like Apple and Samsung, are constantly upgraded. This means mobile gamers can anticipate regular enhancements, optimized performances, and innovative features tailored for an enriched wagering experience.
Advantages of Desktop Gaming
Superior Graphics and Performance: Despite the strides in mobile tech, desktops remain unrivaled in delivering high-definition graphics and smooth performance. This is especially noticeable in intricate gambling games where visuals play a pivotal role in the overall experience.
Greater Storage: One of the underrated assets of desktop gaming is its vast storage capacity. You can indulge in a myriad of games without fretting over exhausting memory or the need to procure additional storage solutions, making it a hassle-free platform for gaming enthusiasts.
The Future of Mobile Casino Gaming
As game studios adapt, mobile gambling remains at the forefront of this evolution. Today, many gamblers have a betting or casino app on their mobile devices. This increasing competition pushes gambling apps to innovate regarding features and accessibility.
Sports betting apps now often include casino games, and many integrate live streaming features for matches. The continuous development of these apps suggests a future where mobile gaming is even more refined.
The ubiquity of smartphones means that there are billions with a mobile casino right in their pocket. While many online gambling platforms still focus on desktop optimization, the trajectory is clear: the future lies in mobile gaming. Major game providers like NetEnt, NextGen, PlayTech, and Microgaming are beginning to shift their emphasis, foreseeing a future where the best gaming experiences are designed primarily for mobile platforms.
This transition towards mobile gambling demonstrates the industry's proactive approach to meeting users' evolving preferences and ensuring that the iGaming studios landscape remains vibrant and competitive.
Integrating Social Features in Online Casinos
In the digital age, the online gambling landscape has continuously evolved to align with players' preferences. One profound transformation is the integration of social features in online casinos. This dramatically impacts bettor's engagement and reshapes how gamers interact with these platforms. Adding such features creates a symbiotic relationship between social interactions and gaming, enhancing the overall experience for users.
Why Social Gaming is the Next Big Thing
The digital gaming world is no stranger to trends, and the rise of social gaming stands out as a testament to the industry's adaptive nature. Social gaming encompasses online games that foster interaction between players, with social casinos - a subcategory where players can play casino games online - emerging as a major player. As of recent data, the global social casino gaming market hit an impressive 6.2 billion U.S. dollars, solidifying its presence in the mobile gaming segment. Notably, brands like KamaGames' Pokerist, Slotomania, and offerings from industry titan Zynga have gained significant traction among users.
However, the winds of change, exacerbated by the mobile gaming boom in 2020 and 2021, have brought about fluctuations. With the stabilization of user engagement, casino and slot gaming apps now face challenges in maintaining their earlier momentum.
The key to the success of these games? Two words: entertainment and socialization. bettors are deeply enthralled by the novel experience, particularly the ability to connect with peers during gameplay. The inherent competitive streak in humans is another factor, with leaderboards and promotional tournaments pushing players to outdo each other. For many online gaming sites, these features, driven by online casino software, are not just add-ons but core functionalities.
Social Features BC Players Love
The allure of online casinos has undeniably grown, with BC players increasingly valuing social features that augment their gaming experience. The significance of user interaction is paramount in today's interconnected age, making it a core aspect of many platforms. Users navigate friendly competitions and intense rivalries by analyzing playing histories and developing strategies.
Moreover, with the internet's tendency to induce feelings of isolation, gambling sites employing online casino software must continually innovate to foster genuine connections. The rise in popularity of live dealer games where players can engage with dealers and other gamers corroborates the desire for enhanced sociability. With lower stakes, social casino gaming is an effective gateway for newcomers, offering an immersive experience without daunting commitments.
These games have carved a unique niche in jurisdictions where legal restrictions bind online gambling. For instance, in Australia, operators have creatively adapted to the constraints by offering modified, legal versions of their platforms.
Maximizing Engagement through Social Interactions
To elevate the gaming experience, online gambling sites must prioritize community building and leverage the potency of social interactions. A cohesive community, underpinned by exceptional online gambling experiences, is indispensable for an iGaming brand's success.
At the heart of this is creating a sense of belonging among bettors. Effective strategies include impeccable customer service, diverse communication channels, and the establishment of online social media communities or forums. These elements bolster brand identification and loyalty. Observing leading iGaming companies and assimilating their best practices can serve as a valuable roadmap.
A concrete action item for operators would be initiating an online casino forum. This would act as a digital hub for players to share insights, forge friendships, and engage actively with the brand. Coupled with strategic social media campaigns, this can fortify the community spirit. It is imperative for online casino software to drive these strategies, ensuring seamless experiences and deeper connections among users.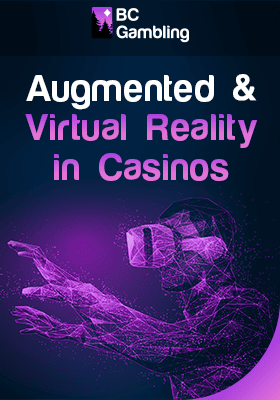 The Role of Augmented and Virtual Reality
Augmented Reality (AR) and Virtual Reality (VR) are two technologies that have rapidly made their mark across various industries. In the iGaming market, their potential is limitless. With the ability to provide gamblers an experience beyond the screen, these technologies promise to revolutionize the gaming experience.
AR & VR: Changing the Face of Online Gambling
One of the crucial adaptations the gambling industry underwent during the COVID-19 pandemic was an accelerated shift to online platforms. Surprisingly, even post-lockdown, many gamblers continued to prefer online gaming. This online pivot has led to an expected valuation of $72.02 billion for online gambling in 2021. With VR, users can now enter a detailed 3D casino where they can:
Wander around the venue with a complete 360° view.
Interact with dealers, converse with other bettors, and even participate in simple gestures like shaking hands.
Experience faithful replicas of iconic real-world casinos, enhancing immersion.
Moreover, developers are also experimenting with AR. On one hand, it aims to provide the excitement of land-based operators by potentially rendering a live dealer in one's living space or offering enhanced gaming options, and on the other, there's potential for AR to benefit physical gambling locations by showcasing relevant data, like recent jackpots or promotional offers.
Yet, the current landscape mainly showcases entertainment-only versions like the VR casino for Gear VR by ME2ON, highlighting the developmental nature of the technology. While the possibilities are exhilarating, the exact trajectory of AR and VR in casino game development remains speculative.
BC Players' Take on VR Casino Experiences
The British Columbia Lottery Corporation (BCLC) is actively considering VR as it seeks collaboration with Vancouver's Archiact Interactive to develop a virtual reality game. The dynamics of online gambling are shifting rapidly. While iGaming revenues have increased, traditional lottery revenues have shown a decline.
However, VR's true-to-life experience brings with it genuine concerns. Dr. Stephane Bouchard, a leading figure in clinical cyberpsychology, points out that gambling addicts react similarly in virtual gambling platforms as they would in physical ones. While VR can be a therapeutic tool to manage cravings, it also can amplify the risks. Without real-world interventions like Gamesense advisors, a user engrossed in a VR casino at home might quickly spiral out of control.
Regarding these issues, the official response remains cautious. BCLC emphasizes the lengthy road ahead before VR gaming becomes mainstream, highlighting the need for extensive testing, approvals, and regulatory compliance.
Future Prospects of AR & VR in Casino Software
Looking forward, both VR and AR seem poised to revolutionize the iGaming industry. Some envisioned features include.
Unique experiences like gambling on the moon or touring a VR Las Vegas.
Enhanced interactions in table games, allowing gamblers to communicate and observe live gestures.
Immersive environments where you can relax in a lounge, get a drink at the bar, or light a cigar.
As technology evolves, the best casino software seamlessly integrates VR and AR, ensuring a dynamic and immersive experience across devices. iGaming software companies are anticipated to innovate and launch new products, leveraging VR with AI and AR, thus ushering in a new era for online gambling platforms.
Understanding RNG (Random Number Generation)
Random Number Generation (RNG) is a pivotal concept integral to online casino games. It forms the foundation of chance in casino games, ensuring fairness and unpredictability. A robust RNG mechanism is at the core of reliable and unbiased gameplay.
What is RNG, and Why is It Crucial?
Random Number Generators, or RNGs, are intricate mathematical algorithms that churn out random results. These are embedded within a plethora of casino games like slot machines, roulette, blackjack, and poker, with their primary function being to determine the outcome of every round. The essence of RNG guarantees that online game providers deliver games that mirror the unpredictability seen in brick-and-mortar casinos.
The operation of an RNG starts with what's known as a seed value. This seed acts as the genesis for generating a series of numbers. A sequence of seemingly random outcomes is produced by tapping into a multitude of mathematical equations and various inputs — be it the current time, system metrics, or user activities. Even though computers are intrinsically deterministic, RNGs, especially those in online casino software, are architected to simulate randomness. They achieve this by leveraging complex algorithms and drawing from external variables, thus producing a result that appears entirely unpredictable.
A paramount feature of an RNG is its ability to produce statistically independent and uniformly distributed outcomes. In simpler terms, each number produced is unrelated to numbers before or after it in the sequence. This ensures the absence of any discernable patterns or biases, preserving the sanctity of chance in games.
Ensuring Fair Play: RNG Certification
In their pursuit of upholding the integrity of RNGs, many iGaming providers resort to rigorous validation processes. This encompasses:
Independent Testing

Reputable online iGaming platforms collaborate with third-party agencies to review and certify their RNG mechanisms. Through detailed examinations of the algorithms, these agencies validate the randomness and fairness of the game. Players can often recognize such trustworthy online casinos by spotting certification seals, typically placed prominently on the website.

Regulatory Compliance

Esteemed gambling operators, supported by their respective software providers, adhere to a stringent process whenever they need to modify games or individual machines. They are obligated to inform gambling regulators of such changes. Non-compliance can lead to dire consequences, including hefty fines or even potential revocation of licenses.

Notable Certification Bodies

eCOGRA (eCommerce Online Gaming Regulation and Assurance) and TST (Technical Systems Testing) stand tall among the renowned entities that conduct exhaustive RNG evaluations. They further delve into various tests such as live dealer evaluations, game payout verifications, and a gamut of security checks, cementing the notion of fair online gaming.
Myths and Facts Surrounding RNG
A slew of misconceptions about RNG have sprouted, especially with the ascendancy of online casinos. A few of these, juxtaposed against the facts, are:
After a sizable withdrawal, the online casino throttles winning chances. It's impractical and monumental to single out specific users or link their accounts to the RNG to orchestrate particular outcomes.
Online casinos have the leeway to tweak the RNG. The casino software provider, not the operator, dominates the RNG. Alterations would necessitate interfacing directly with the software entity.
The RNG settings fluctuate between fun play and real money games. RNG remains steadfast across game modes, ensuring bettors get an authentic gaming experience regardless of the mode they choose.
The RNG is a beacon of technological prowess, relentlessly churning out outcomes that defy predictability. It shields the casino and the wagerers, ensuring impartial game outcomes. People venturing into deciphering the RNG code or considering breaking infallible betting systems tread on thin ice. The RNG's unpredictability remains its quintessence, reminding wagerers of the true spirit of the gamble.
Safety and Regulations in Casino Software
Online gambling has witnessed rapid growth. With this expansion, safety and regulations in online casino software have become paramount. A core pillar for user protection, ensuring rigorous security measures and adherence to rules is a top priority for casino game companies. Only by prioritizing these facets can online game studios guarantee their users a secure and trustworthy environment.
Understanding BC's Online Gambling Laws
British Columbia stands out as a province where online casino play is legal and strictly regulated by the British Columbia Lottery Corporation (BCLC). The BCLC operates its online gaming platform, PlayNow, which offers an extensive array of casino games, sports betting, and lottery diversions.
While PlayNow is managed and operated by the BCLC, several offshore online casinos also find favor among the residents of British Columbia. Names like Slotimo and others make the list.
Who is eligible to play online casino games in British Columbia?
Age requirement: Bettors must be older than 19 years.
Location: They must be physically located within the province of British Columbia while engaging in the game.
Account: They must have a valid account with an authorized online casino operator.
Employment Restrictions: One cannot be a BCLC, online casino employee or affiliate.
Exclusion Lists: Bettor should not be on any self-exclusion lists.
Adherence to these eligibility requirements is mandatory as they align with regulations set forth by the BCLC.
Encryption and Data Protection Measures
For any online casino software provider, sophisticated encryption and data protection measures are non-negotiable. Encryption in online casinos, especially SSL encryption, is pivotal in safeguarding gamblers' financial dealings and personal details. This process crafts a fortified link between the user's device and the casino's server, ensuring that any transmitted data remains incomprehensible to potential hackers.
Lucky7Bonus exemplifies a casino that doesn't skimp on security. They emphasize measures such as SSL encryption, two-factor authentication, and routine security audits. This proactive approach ensures that gamblers' personal and financial data stay protected.
Two-Factor Authentication (2FA): 2FA provides an extra tier of security, requiring users to furnish two distinct forms of identification to gain account access. It's an effective barrier against unauthorized intrusions.
Regular Security Audits: These entail an independent organization conducting a comprehensive review of an online casino software's security protocols. Regular audits ensure longevity in security measures, and any identified vulnerabilities are swiftly rectified.
Encryption and varied security initiatives are foundational for an online casino's credibility. While essential, measures like SSL encryption, 2FA, and frequent security audits are just parts of the comprehensive security approach that casino software companies should employ.
Safe Payment Gateways for Seamless Transactions
Ensuring fluid and safe transactions is a focal point for every online casino software. British Columbia online casinos have a multitude of payment channels to facilitate this.
E-Wallets: E-wallets offer a secure mechanism to execute deposits and withdrawals, processing transactions rapidly. Prime examples are PayPal, Skrill and Neteller
Prepaid Cards: Prepaid cards, such as Paysafecard, are gaining traction. They function similarly to debit or credit cards but come with preloaded funds.
Bank Transfers: This method involves a direct fund transfer from your bank account to the casino's account.
Credit and Debit Cards: A prevailing payment mode, credit and debit cards are universally accepted across top casino sites in BC.
Cryptocurrencies: Digital currencies like Bitcoin and Ethereum have become valid payment modes. These transactions are encrypted and offer a layer of discretion.
In the intricate tapestry of online gaming, the threads of security, regulation, and seamless transactions are interwoven. As the sphere continues to evolve, so does the commitment of online casino software providers to ensure a robust and reliable gaming landscape.
Trends to Watch in the Casino Software Arena
The game provider industry is undergoing rapid transformations, with emerging trends redefining the gaming landscape. How do these innovations influence bettors' experiences and preferences? Let's delve deeper.
The Rise of Esports Betting Platforms
Over the past decade, Esports has soared in global appeal. Platforms like Twitch and the widespread availability of high-speed internet have fostered an environment where millions watch and interact with professional gaming tournaments. Now, with huge audiences, Esports competitions witness fans keenly watching their beloved teams vying for esteemed titles and significant prize money.
The gambling sphere's influence on Esports in British Colombia is undeniable. Online platforms and regulators have championed responsible gambling measures alongside Esports' growth. This includes:
Age verification processes
Betting amount restrictions
Self-exclusion mechanisms
Resources and information on responsible betting
This adherence to safeguarding measures signifies the industry's pledge to cultivate a secure environment for Esports enthusiasts in British Colombia.
The emergence of Esports betting platforms, integral components of the best online casino software, leverages competitive gaming's rising fame. These platforms, including some top online casino game providers, allow British Colombia gamblers to bet on admired teams and players. Such online gambling platforms present a plethora of Esports betting variants. From individual matches to tournament outcomes and player's achievements, these platforms add a new dimension to entertainment and escalate engagement levels among Canadian players.
Incorporating gambling elements within Esports has bolstered viewership and immersion. Esports betting infuses an added thrill for viewers, their stakes in match outcomes magnifying their engagement. This culminates in amplified viewership for Esports events in Canada. As fans wager on preferred players or teams, the emotional investment intensifies the spectator experience. Furthermore, this integration has not only magnetized existing Esports fans but has also drawn the attention of mainstream sports enthusiasts, enhancing Esports' reach and allure in Canada.
The rise of Esports betting platforms, the instatement of responsible gambling protocols, and the spike in viewership and engagement due to gambling have profoundly influenced Esports' prominence in Canada.
Integrating Cryptocurrencies in Online Casinos
The online casino software realm is experiencing a significant transition with integrating cryptocurrencies. What are the implications for gambling enthusiasts and operators?
Benefits
Lower Fees: Traditional online casinos often impose substantial transaction charges. In contrast, casinos employing the best software studios for cryptocurrency transactions offer markedly reduced fees, ensuring bettors retain more of their earnings.
Faster Transactions: Cryptocurrency transactions are renowned for their swift execution, ensuring users can swiftly engage in gameplay, starkly contrasting traditional payment avenues.
Improved Security: Blockchain, the cornerstone of cryptocurrency, promises secure, transparent, and resilient transactions, fostering trust among bettors.
Anonymity for Customers: Cryptocurrencies permit users to transact without revealing personal details, thus adding an extra security layer against potential identity theft.
Challenges
Regulatory Hurdles: Incorporating cryptocurrencies into online gambling necessitates navigating intricate regulatory terrains, given the prevailing uncertainties about their legal status.
Price Volatility: The oscillating value of digital currencies presents challenges in determining consistent prices and payouts.
Promoting Responsible Gambling: The inherent anonymity of cryptocurrencies can hinder monitoring and potentially exacerbate gambling addiction issues.
Adaptive Gaming: Personalized Player Experiences
The paradigm of gaming has evolved considerably from the era of pixelated graphics and rudimentary arcade games. The burgeoning influence of artificial intelligence (AI) and machine learning in online casino software has been a significant catalyst in this transformative journey. Today, the gaming community stands at the threshold of an era dominated by AI-powered adaptive gaming. This innovation promises enhanced gaming experiences and ones tailored intricately to cater to individualistic player preferences.
With the infusion of AI, Game development has entered a realm where the creation of virtual worlds mirrors the dynamism and unpredictability of the real world. Procedural generation and craft expansive gaming environments are some of AI-driven techniques. These aren't just vast but are responsive, adapting and evolving based on individual user's actions. Such adaptability elevates the gaming experience and offers the advantage of economizing development time and resources.
Additionally, the presence of AI translates to smarter, more responsive non-player characters (NPCs). These characters can interpret bettor's behavior, adjusting their strategies in real-time. This adaptability especially shines in multiplayer scenarios. AI-empowered NPCs can seamlessly substitute for human users, ensuring the gaming experience remains consistent, challenging, and engaging for all participants.
The promise of AI, however, extends far beyond mere gameplay enhancements. One of its most groundbreaking prospects is the ability to offer deeply personalized gaming experiences. AI algorithms can recalibrate game narratives, difficulty levels, and content by continuously analyzing and learning from a wagerer's choices, style, and skill level. Such meticulous personalization intensifies user engagement and fosters a sense of unique ownership of the gaming journey. As the gaming landscape relentlessly pushes the boundaries of innovation, AI-driven adaptive gaming stands as a testament to the future of personalized entertainment in the industry.
Training and Support: Ensuring Seamless Gaming
In the evolving world of online gaming, one thing remains consistent: the need for comprehensive training and support. Ensuring a seamless gaming experience is paramount, particularly for BC players who are navigating the multifaceted landscape of online casino software. Adequate resources, from guides to customer support, play a pivotal role in guiding players through online casinos, making their journey both enjoyable and hassle-free.
Getting Started: Online Tutorials and Guides

Technology's advancement has democratized access to tutorials and step-by-step guides designed to elevate bettors' experience and performance. For anyone looking to delve into online casino games, it's crucial to acquaint oneself with the game's intricacies. Engaging with these resources equips players with invaluable insights, from understanding the game's core mechanics to mastering advanced strategies that might just tip the odds in their favor.

How to play Cash Pig from Play Live Casino is an exemplary guide that delves deep into the game's mechanics, offering gamblers insights into optimizing their chances of hitting the jackpot. Beyond specific game guides, many casino software companies provide various tutorials to familiarize players with a range of titles, ensuring gaming enthusiasts select a game that aligns best with their interests and skills.

24/7 Support: Importance of Robust Customer Service

The meteoric rise in the online casino industry, particularly post-COVID-19 lockdowns, has underscored the need for impeccable customer service. With bettors spanning the globe, the challenge for any iGaming provider is to furnish top-tier support tailored to meet diverse users' needs. Critical aspects of robust customer support include:

Timely Resolutions: Players expect swift assistance, particularly if they're at a critical juncture in a game. Delays could exacerbate bettor's frustration, leading them to explore alternatives.
Trust and Security: Players investing real money need assurance that the casino operates with integrity. Their experience should be dependable every time they engage with the platform.
Competitive Advantage: In an industry where numerous casinos vie for a users' attention, those boasting the best customer service are poised for success. Stellar service fosters wagerers' loyalty and can transform them into brand evangelists.
Addressing Common Issues: Casino software providers must anticipate frequent issues. From guiding players on game choices to facilitating seamless transactions, the support team should be adept at offering solutions.

Community Forums and Player Interaction

A crucial facet of the online gaming ecosystem is the burgeoning presence of community forums and platforms that foster player interaction. Far from being just hubs for discussion, these forums serve as knowledge repositories where novices and veterans alike can share tips, strategies, and experiences. Considerations for online community forums:

Diverse Discussion: Forums, nurtured by some online casino game companies, cater to a broad spectrum of discussions - from game tactics to addressing the challenges and pitfalls of gambling.
In-Game Chat Tools: Certain casino software providers' tools facilitate real-time interactions, especially in games like online poker.
Identity and Engagement: These virtual communities offer players a platform to forge their identities, share experiences, and bond over mutual interests and challenges. For those grappling with gambling problems, these forums also provide invaluable peer support.

As the online casino software landscape continues to evolve, it's evident that player-centric resources, support systems, and community forums will remain central to ensuring a memorable and seamless gaming experience.
Conclusion
In the digital age, online casino software has become the backbone of the gaming experience, especially for BC players. This comprehensive guide has underscored such platforms' play, from enhancing gameplay with live casino games to introducing innovative payment options like crypto-based games. The vast landscape of top game developers offers players various choices, each boasting unique features and benefits tailored to diverse gaming preferences.
It is paramount for BC bettors to recognize the significance of aligning with reputable software platforms. These platforms guarantee an enriching and seamless gaming experience and also ensure security, trustworthiness, and consistent updates to maintain the players' interest. Platforms backed by top online casino software providers often bring cutting-edge technology, a wide range of games, and robust customer support, ensuring gambling enthusiasts are always at the forefront of gaming innovations.
As the digital casino realm evolves, BC gamblers are encouraged to revisit the insights provided in this guide and utilize platforms such as BCGambling.ca for further guidance. Making informed choices and prioritizing software features, credibility, and player support will undeniably pave the way for an unmatched online casino journey.
FAQ
What are the most trusted online casino software for BC players?

The most trusted online game developers for BC players include platforms endorsed by BCGambling.ca and those backed by top global software providers.

How do regulations impact online casino software in British Columbia?

Regulations in British Columbia ensure that online casino software maintains high standards of fairness and security, protecting players from potential malpractices.

How do I ensure that an online casino's RNG is genuine and fair?

To ensure an online casino's RNG is genuine and fair, always choose casinos that are licensed by reputable regulators and have RNG certifications from independent testing agencies.

What technological advancements can we expect in BC's online casino platforms in the next decade?

In the next decade, BC's online casino platforms may see advancements like virtual reality gaming, enhanced AI integrations, and more sophisticated live dealer experiences.

Why are social features becoming increasingly significant in online casinos?

Social features are becoming significant in online casinos because they enhance player engagement, foster community building, and replicate the social aspects of traditional casino gaming.