Learn About The Importance of Responsible Gaming Tools in BC
Being one of the largest and most populated Canadian provinces, British Columbia is the home to dozens of casinos and thousands of video lottery outlets. Since online gambling is also fully legal in all forms in BC, residents have many gaming opportunities, from buying lottery tickets and betting on horse races to playing casino games and placing sports bets online. Most importantly, all of the top-ranked British Columbia sites have advanced Responsible Gaming policies.
The rise of the iGaming market has brought many international casino brands to the province, operating besides government-owned casinos and VLT terminals. Even though many see these popular forms of gambling as harmless activities, gambling can easily lead to problems and even addiction if not played with caution.
That's why many reputable responsible gaming organizations offer help to British Columbia gamers and try their best to prevent problem and addictive gambling. In this guide, we'll discuss all the available tools and organizations promoting responsible gaming in BC, as well as the signs and symptoms that may indicate gambling addiction and the measures you can take if you or someone you know is struggling.
What is Responsible Gaming in British Columbia?
The majority of Canadian players who engage in gambling manage to do so in a healthy manner and will never suffer any addiction issues. However, it is impossible to foresee if this will be you. Therefore, taking precautions is a good thing to do - this is one thing you do not want to gamble on!
Ideally, every patron would stay informed on how to practice responsible and safe gambling and how to make sure they are taking part in activities in an appropriate manner - and that's where tools that help players gamble responsibly come in handy.
There are multiple sets of tools and measures that both legal authorities and non-profit organizations have taken to inform players of the dangers that come with problem gaming and gambling addiction, as well as tools that can help people that are already struggling with these issues.
In a nutshell, responsible gaming is a set of behaviours and rules that patrons and service providers are to go by in order to prevent adverse effects associated with gambling. All forms of gambling are only intended to be fun time activities, and to gamble responsibly means to do so for one's enjoyment and nothing else.

Responsible And Safer Gaming in British Columbia
The government takes responsible gaming in BC very seriously and offers numerous tools and practices for British Columbia casino players and sports bettors. The program offers a long list of products in a well-rounded service and we'll list the major ones below.
24-hour toll-free gambling support line
Free community-based counselling services
Various websites that provide information on the problem and addictive gambling
Education and awareness services throughout the province
Brochures and posters in all BCLC-operated casinos, bingo halls, lottery retail outlets and online sites
Free education and training regarding problems related to gambling.
What is the Main Goal of Responsible Gambling Organizations in BC?
As we mentioned previously, gambling is all about fun - regardless of its form. So, the main goal of BC responsible gambling organizations is to keep gaming as an entertainment-only activity and make sure that all players gamble solely for their enjoyment.
Besides prevention, these organizations offer help to players struggling with BC problem gambling as well as prevent underage gambling, combat criminal activities, provide payment protection, and ensure a safe and secure online gaming environment for everyone. We discuss some of the main goals in more detail below.
To protect vulnerable players and those who are at higher risk of problem gambling - Some gamblers are more vulnerable than others, especially people who struggle with other addictive behaviours. BC responsible gaming professionals work towards determining the factors that may lead to problem or addictive gambling, such as previous psychiatric problems, a tumultuous and challenging home life, or lack of community support, all in order to better protect them from becoming victims of problem gaming.
To prevent underage gambling - The legal gambling age in British Columbia is 19, and BC responsible gaming organizations work in collaboration with operators and service providers towards preventing underage gambling too.
To combat criminal activities - Just like any other online site that deals with e-commerce or financial transactions, casino and sports betting sites in BC can quickly become the target of cybercriminals. The operators must implement software that protects players' sensitive information, ensuring data doesn't end up in the wrong hands. All legal BC gambling sites implement modern-day encryption technology to guarantee data safety.
Payment protection - Registering and using an iGaming site often includes making money transactions to and from the site. It's of utter importance for gambling site operators to implement an encryption protocol that protects all payment data from getting into the wrong hands, and that also means providing the availability of safe payment methods, such as debit/credit cards and online payment services such as Interac.
Ensuring safe and secure iGaming environment - online gambling site operators must ensure that they provide a safe and secure iGaming environment for all players, and they have to create a series of mechanisms and controls that make for a secure platform. All gaming activities must be done in a safe and secure fashion, and every patron should feel safe at all times.
Promoting ethical marketing - Every Canadian province has regulatory advertising codes of practice in place, and they usually ensure that all advertisements are factually correct and not misleading. Online operators must comply with these codes and make sure to ask for permission from the customer before engaging in direct marketing through the use of their personal details, such as their email or phone number.
BC Responsible Gaming Agency in Charge
All forms of gambling in British Columbia are regulated, audited, and overseen by the Gaming Policy and Enforcement Branch (GPEB). The branch ensures the integrity of gaming industry companies, the people involved, and the equipment used. It is also responsible for investigating all allegations of wrongdoing regarding gambling in British Columbia.
Moreover, the GPEB is responsible for overseeing the British Columbia Lottery Corporation (BCLC) and all of casinos, lotteries, and commercial bingo halls, as well as all gambling service providers and gambling workers in the province, including the horse racing industry in BC. All the activities carried out by the GPEB are following Canada's Criminal Code and the provincial Gaming Control Act and Gaming Control Regulations.
More About The Gaming Policy and Enforcement Branch (GPEB)
The authoritative regulatory body for gambling in British Columbia is the Gaming Policy and Enforcement Branch (GPEB). It was formed in 2002 to replace the BC Gaming Commission and was named the authority to issue licenses and to prescribe terms and conditions.
The GPEB covers four primary areas of responsibility: registering companies and people as well as licensing operators in the province, certifying lottery schemes and gaming supplies, auditing them for compliance with provincial requirements, and investigating allegations of wrongdoing regarding gambling in British Columbia.
The Gaming Policy and Enforcement Branch (GPEB) Contact Information
The Gaming Policy and Enforcement Branch is the main regulatory body in the province. As such, it follows the Gaming Control Act and is responsible for the overall integrity of gaming and horse racing in BC.
Suppose you have any questions or inquiries regarding gambling in British Columbia, need to send documentation for gambling event licenses, gaming grants, or gaming registration. In that case, you can contact the GPEB via email, phone number, mail, or visit the GPEB offices in person.
Contact Options
Email
[email protected]
Victoria Office Phone Number
250 387-5311 opt. 1
Victoria Office Address
Gaming Policy and Enforcement Branch, 3rd Floor, 910 Government Street, Victoria, B.C. V8W 1X3
Toll-Free within Canada/USA
1 800 663-7867 (ask to be transferred to the Victoria number above)
Toll-Free Gambling Support for British Columbia Players
British Columbia residents can access the toll-free service line 1-888-795-6111, where they'll find a professional counsellor available 24/7. The helpline is accessible to everyone within or outside of BC, and the organization employs professional counsellors that offer free community-based counselling services through contracted agencies and qualified individuals.
Gambling Support BC
Gambling Support BC is a website administered by the Community Supports Division within the Gaming Policy and Enforcement Branch (GPEB) of the Ministry of Public Safety and Solicitor General in BC. It's supported by the government as it aims to develop and offer innovative health promotion and promotion strategies to assist BC residents in making the best decisions regarding all forms of gambling.
Additionally, GSBC offers support services to all BC gamblers and offers gambling support services centred on individuals, groups, day treatment, and community outreach support. The site also features a self-assessment test that players can take for free to identify and distinguish between recreational and problematic gambling.
If you believe that you or someone you love needs support or treatment regarding BC problem gambling, you can request help online at the GamblingSupportBC site or through the 1-888-795-6111 Gambling Support Line, that's toll-free and is available around the clock.
Gambling Support BC Team
The devoted team working behind the scene at Gambling Support BC is composed of 41 certified counsellors working around the clock to offer help to anyone in need. The team includes registered clinical counsellors, prevention and community engagement providers, and social workers that have worked for 20+ years helping people in the areas of problem and addictive gambling as well as mental health.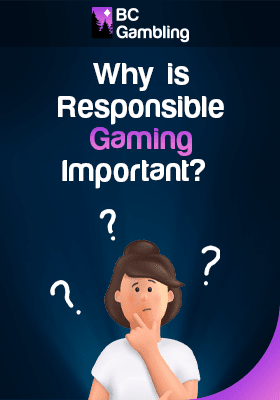 Why Are Responsible Gaming Policies and Tools Important?
Despite the numerous benefits of responsible gaming policies and tools, the most important is letting players know they're not alone. To expect that all players will follow responsible gaming guidelines and practices is unrealistic, and it all comes down to the users themselves to follow their self-imposed sets of rules.
However, a robust support system goes a long way towards preventing and dealing with problem gambling - which is why all offshore operators available in BC and PlayNow - the only licensed site in the province - have to follow the policies and practices enforced by the GEPB.
The BC responsible gaming policies and tools are great for beginners with words of advice on how gambling works, why one should always play solely for fun, and highlight the warning signs and symptoms that one might be falling into the pit of gambling addiction. Other essential tools which allow users to control their gaming time and bankroll more efficiently include:
Deposit limits
Betting limits
Reality checks
Time limits
Cool-offs
Self-exclusion
PlayNow - The BCLC-Licensed Gambling Site
Launched in 2004, PlayNow.com is operated by the British Columbia Lottery Corporation (BCLC) and is the only licensed gambling site in British Columbia. All the revenue generated by the site is invested back into the communities of BC through the support of the provincial government and charitable programs.
It's a safe and secure online gaming site that offers a casino, poker, bingo, sports betting, live casino, and lottery sections where players can enjoy a wide variety of games. When it comes to responsible gaming in BC, PlayNow allows its users to manage their gameplay by:
Setting weekly deposit limits
Setting time limits
Taking breaks from gaming at the site (24 hours to 14 days).
Moreover, it's a part of the GameSense program and offers help to anyone in need through Live Chat or the toll-free line 1-877-706-6789. BC players can talk to a trained GameSense Advisor specialist there. Also, the site offers access to numerous responsible and safer gaming organizations and services, including Gambling Support BC, GamTalk, Journal of Gambling Issues, Gamblers Anonymous, and Gam-Anon.
Report on Problem Gambling Prevalence in British Columbia
Multinational market research firms Ipsos and Strategic Science issued a study in 2020 regarding problem gambling prevalence in British Columbia. The study measures the prevalence of adult participation in online gaming and online problem gambling in the province and is among the first of its kind.
The study found that 22% of British Columbia residents spent money on at least one online gaming activity in the previous year, and online gamblers are primarily male and younger than the general players.
The study also found that online gamblers are more likely than gamblers, in general, to classify toward the higher risk end of the Problem Gambling Severity Index. 24% of online gamblers fell into this category while 40% of them classify as either high or moderate risk, which is again more than gamblers in general.
When it comes to tools and resources that help players gamble responsibly, only 22% of online gamblers responded that they use them, while 72% of them are aware of the provincial help resources. Unsurprisingly, the study found that online gamblers have a strong preference for using a BC-regulated website rather than an offshore site.
Responsible Gambling Standards in the British Columbia iGaming Industry
When it comes to safe gaming standards in the British Columbia online gambling industry, all BCLC gaming service providers must have policies, procedures, and regular training in place. These all have a couple of ultimate goals, including:
Prohibiting minors from participating in any form of gambling
Denying customers who appear to be under the influence of intoxicants access
Ensuring that employees facilitate regular interaction with customers as standard practice, especially if a customer's play is extended, intensive, or repetitive.
Operators must ensure that clocks display the time of the day and are readily accessible to customers as sort of a reality check too. Additionally, BCLC gaming services must provide voluntary self-exclusion programs and ensure that practices are in place so that all customers that have requested VSE are treated with respect and offered a referral to problem gambling treatment with support services.
Advertising and Marketing iGaming Services in British Columbia
All service providers that have been licensed to hold gaming events must comply with British Columbia's Advertising and Marketing Standards. All advertising must be delivered in a responsible manner and take into consideration the potential impacts on individuals that may be adversely affected by gambling.
Additionally, service providers must ensure that all players can make informed decisions by prominently displaying information about the potential risks associated with gambling and where to get help.
What is Gambling Addiction?
Gambling addiction is diagnosed using criteria similar to alcohol and drug dependence. A pathological gambler will increase their tolerance by increasing the amount gambled and experience an inability to quit. However, some criteria, such as chasing losses, will be unique to gambling.
Those who suffer from gambling addiction are often found to have the same risk factors that predispose an individual to other addictive behaviours. These factors include previous psychiatric problems, a tumultuous and challenging home life, and a lack of community support.
Not only are those likely to fall into substance abuse but are similarly likely to fall into gambling addiction, where many times people also turn from these previous addictions to gambling as an alternative. Unfortunately, this alternative can be just as unhealthy and life-ruining.
Thankfully, addictions are treatable, and gambling addiction help is available, but one must seek out and accept that help willingly. A key factor to any recovery is identifying and admitting the problem.
Physical Signs of Gambling Addiction
When playing without the goal of enjoyment but rather chasing wins, a person will experience high levels of stress, anxiety, and frustration. Apart from affecting their mental state, the result of this is altered and ultimately harms their physical state.
Stress and anxiety may lead to cardiovascular issues, while the gastrointestinal issues they cause are sure to plague the life of an addict. Frequent headaches, nausea, lack of appetite, insomnia, and stomach issues are some physical signs of gambling addiction.
Frequent Headaches

Many gambling addicts report frequent headaches as one of the first symptoms of gambling addiction. Doctors confirm that this symptom occurs primarily due to the frequent adrenaline fluctuations and the lack of sleep - which are both significant parts of problem gambling.

Nausea

Nausea, tight chest, sweating, racing heart, and palpitations are all symptoms that are closely related to gambling addiction. Nausea often occurs due to the lack of sleep and frequent headaches associated with gambling addiction.

Lack of Appetite

Another symptom closely related to frequent adrenaline fluctuations and lack of sleep, a lack of appetite is a common occurrence in people struggling with gambling addiction. This is often the case in long gaming sessions that may take even up to several days without stopping, through which gambling addicts often don't consume any or take in very small amounts of food.

Insomnia and Other Sleep Problems

One of the most common physical symptoms of gambling addiction is insomnia or trouble sleeping. Many factors contribute to the development of these symptoms, but staying up long nights gaming, with the frequent headaches that follow gambling addiction, as well as anxiety and depression all come off as the most common psychological symptoms related to the issue.

Stomach Issues

Stomach issues such as vomiting and diarrhea are closely related to nausea, and they're also common symptoms of gambling addiction. This may feel like a vicious circle of physical problems that correlate and boost one another.
Psychological Signs of Gambling Addiction
Even though the physical symptoms might be easier to identify, addiction is a psychological issue in itself and it can also create new mental health issues, such as depression, increased anxiety and stress levels, or worsened previous conditions you may suffer from.
Problem gamblers will experience massive frustrations when losing and may even go into fits of rage, causing damage to themselves and their surroundings. It can also lead to poor judgment, concentration issues, frequent mood swings, and increased irritability. Suicide is also an issue hugely prevalent among gambling addicts, more so than with other addictive disorders.
Anxiety and Agitation

Anxiety and agitation are some of the most common symptoms related to gambling addiction. People struggling with this addiction will often feel anxious while performing their everyday chores and feel a strong urge to try and avoid their problems by engaging in a gaming session. This is one of the first symptoms of gambling addiction and can be considered the first major warning sign.

Very Frequent Mood Swings

A person struggling with this addiction may feel extremely elevated at one point and down the next. This is due to the nature of gambling, but with gambling addiction, these symptoms are enhanced to a much higher level.

Concentration and Memory Issues

Memory and concentration issues are two common symptoms of this addiction, and they often occur after a long gaming session or a sleepless night. Nonetheless, long-term consequences are still less researched and this could be just as worrying right now.

Poor Judgement

Another early symptom of addictive gambling is poor judgment - especially during a long gaming session. It's closely related to the problem of chasing losses when a player believes that they have the upper hand and makes bad decisions in the hope of winning big.

Nervousness and Defensiveness

Although the first step toward admitting that you're battling with addiction is accepting it, many people who struggle with gaming have a hard time admitting it. They often get defensive when a loved one mentions it and refuse to accept the reality.

Increased Irritability and Temper

This symptom is closely related to physical symptoms such as insomnia and frequent headaches. While it's often displayed after a long gaming session, it's only fair to say increased irritability and temper increasingly show unprovoked over time.

Feelings of Guilt

Unfortunately, the feeling of guilt is almost always present after a long and exhausting losing session. It's the so-called 'wake-up call' when a person feels the burden of guilt for losing a lot of money, but it's often either too late, or the feeling only lasts for a few days.

Various Stress-Related Symptoms

Stress is often the root of all addictions, but unfortunately, many addicts turn to gambling when they're feeling the withdrawal phase stress from other addictions. This is even more devastating and it's important to recognize such a situation quickly, whether it's you or a loved one going through it.
Social and Behavioral Signs of Gambling Addiction
Besides the physical and psychological symptoms of gambling addiction, some social and behavioural signs are present with all forms of gambling. They often include gambling away inheritance or savings and borrowing money to gamble, being preoccupied with gambling, feeling an extreme urge to gamble, and social isolation.
Gambling Away Inheritance or Savings

Although it often starts like an innocent and fun activity, gambling can quickly take over players' lives, and they may end up gaming away their inheritance and savings. Even worse, gambling addicts often turn to loans from banks or their families or friends to pay out gambling debts. That's why it's of utter importance to set up a gaming bankroll and stick to it.

Gambling for Longer Than Planned

Gaming sessions can be fun and entertaining, but they often take much longer than initially planned. With some forms of gambling addiction, addicts can prolong a gaming session for up to several days without stopping - which will most likely end up in losing money planned and unplanned.

Preoccupation with Gambling

This symptom is closely related to sleep deprivation and concentration issues. Gambling addicts are often so preoccupied with gaming that they can't sleep, work, and do their everyday chores because all they can think about is gaming.

Extreme Urge to Gamble and Loss of Control

Gambling addiction is often manifested through an extreme urge to gamble and a loss of control. Oftentimes, addicts will feel extreme urge to turn up to their favourite casino and keep gaming, even thinking that nothing in their life can make them happy but gaming.

Borrowing Money to Gamble

As another common yet more severe symptom, gambling addicts will often start borrowing money from their loved ones or colleagues to gamble. In some extreme cases, they might even remortgage their house or car to get gambling money.

Continuing to Gamble Despite the Harms

This common symptom occurs with many other addictions, and it's a clear sign of addiction. When someone is well aware of the harms of gambling but continues to gamble regardless of the consequences, it's a clear sign that they need outside help.

Social Isolation

An addiction can take up a lot of a person's time and take over their mind. After some time, all they can think about is gaming and they lose focus on other things, such as their relationships with others. Gambling addicts may therefore lose touch with their friends and become isolated as a direct consequence. This withdrawal from the world outside their gambling habits only worsens the state of an addict.

Denial

The first step towards battling an addiction, and the hardest one, is admitting that you have a problem. Denial is a common symptom with all addictions, gambling included, and oftentimes gamblers don't admit that they're headed for problems until it's too late.
Gambling Addiction vs Problem Gambling
While they're closely related, gambling addiction and problem gambling differentiate in a few key areas. While problem gambling is a broad term that encompasses many different patterns of harmful gambling behaviour that have a negative effect on someone's life, gambling addiction is a term that defines an impulse-control disorder in which the people suffering can't control the urge to gamble.
Even though gamblers can have a problem without being totally out of control, problem gambling is a behaviour that severely disrupts your life, where you're spending more time and money than you can afford, so it can easily lead to gambling addiction.
The term pathological gambling, on the other hand, is a mental health disorder of impulse control that the American Psychiatric Association defines by having some of these symptoms:
Committing crimes to get money to gamble
Feeling irritable and restless when trying to cut back on gaming
Gambling to escape other problems in your life or when feeling sad and anxious

Where to Get Help?
Responsible gambling in BC is taken very seriously, and numerous organizations offer tools, guidelines, and resources to BC players in need, including a 24/7 toll-free support line, the Responsible and Problem Gambling Program BC, Gambling Support BC, Here to Help BC, and more.
The Responsible and Problem Gambling Program BC

24-hour, toll-free Gambling Support Line: 1-888-795-6111. The Responsible and Problem Gambling Program is run by the British Columbia government and provides a toll-free gambling support line that's available 24/7. The phone number is 1-888-795-6111, and users can get free community-based counselling services through contracted agencies and qualified counsellors. The program is funded and run by the BC government, and it provides British Columbia residents with free resources and information regarding gaming in the province. The intention is for players to make informed choices and practise healthy behaviours when gaming.

The RPGP also offers free treatment and support services to anyone struggling. Moreover, the program provides province-wide education and awareness services, offering both professionals and other individuals additional resources to tackle the issue.

The Gambling Support BC website is administered by the Community Supports Division as a part of the Gaming Policy and Enforcement Branch to offer free prevention, treatment, and support services to anyone struggling with problem gambling in BC. Anyone that suspects they might need support or treatment can reach Gambling Support BC through their website or by using the toll-free line 1-888-795-6111.

Here to Help BC

Here to Help is an organization consisting of seven leading mental health and substance non-profit agencies that have been working since 2003 to help people struggling with mental health and substance use. At HeretoHelp, people struggling with gambling addiction and problem gambling in Canada can find quality information, learn new skills, get gambling help in BC and connect with key resources, which will help them take care of their mental health and addiction.
Problem Gambling Rehabilitation Centers in British Columbia
Besides the gambling help that people struggling with gambling addiction and problem gambling in BC can receive via phone, online, or through the above-mentioned services, there are numerous rehabilitation centres across BC that help individuals battling gambling addiction.
Last Door Recovery Centre

The Last Door Recovery Centre's been of great help to Vancouver casino-goers, and it's been supporting individuals and families to recover from drug, alcohol, gambling, video gaming, Internet, and nicotine addiction for over 37 years. The centre features different rehab programs and a recovery community, but also employs certified counselors, support workers, and volunteers to help individuals and families to heal from the impacts of addiction.

Westminster House Society

Westminster House Society is a gender-specific recovery program in New Westminster, British Columbia that offers addiction recovery services for girls and women. It has been offering its services for over 40 years and has a broad range of services. Each member has a dedicated counsellor and support worker.

Top Of The World Ranch Treatment Centre

Recovery Ranch is located on 600 acres in the Rocky Mountains and within 20 minutes of Cranbrook, BC. Previously known as Top of the World Ranch Treatment Centre, it is a recovery centre where people seeking treatment for addiction and behavioural health can work towards becoming a version of themselves that they like while staying sober. It offers several programs, including a Core Addictions Program, Return-To-Wellness, and a Detox program.

Other Organizations That Promote Gambling Responsibly in Canada

Given the popularity of gambling in Canada, numerous organizations offer services and tools promoting responsible gambling help. Some of them include the Responsible Gambling Council, the Canadian Partnership for Responsible Gaming, the Responsible Gaming Network, and the National Centre for Responsible Gaming.

Tools Available To Help British Columbia iGaming Fans Gamble Responsibly
All licensed gambling sites in British Columbia must feature a set of responsible gambling tools and practices that are visible to players at all times. With PlayNow as an exemplary site, options include the ability to set deposit limits, betting limits, self-exclusion, cool-off, and session limits.
Deposit Limits
Players can be in full control of their bankroll by setting monthly and weekly deposit limits. When a deposit limit is in place, the player can choose how much they'll be able to deposit at the gambling site in a certain amount of time, and when that limit is reached, they can't deposit more money into their betting account. Imposing deposit limits is helpful for players that might get pulled into depositing more than they can afford. When there's a limit, the player can't deposit anymore - thus lowering the risks of gambling.
Betting Limits
Similarly to deposit limits, betting limits indicate how much a person can wager from their betting account. BC players can set daily, weekly, and monthly betting limits, and when that limit is reached, they can't wager any more real money from their betting account.Just like deposit limits, betting limits are there to protect the player's bankroll. By imposing a betting limit, the player won't be able to spend all their bankroll quickly and be forced to deposit again.
Self-Exclusion
Self-exclusion is a responsible gaming tool in which a patron can exclude themselves from participating in online gaming for a certain period. BC players can self-exclude themselves from gambling for a month, 3 months, 6 months, a year, or two years. The self-exclusion can be requested on the casino site itself or through a program or service, where the player's request will be sent out to all legally operating gambling sites in British Columbia. Self-exclusion is one of the strongest measures a player can take, and it means that they won't be able to log in at any casino site in an attempt to get out of the pitfall called gambling addiction.
Cool-Off
A popular tool for problem gamblers, requesting a cool-off period or a time-out session means excluding themselves from gambling for a certain period. This is usually between a few days and a month. As the name suggests, this measure is requested when a patron has to cool off from gaming and during this period, they won't be able to log in to their betting accounts. This is beneficial for players that might be developing a gambling problem or gambling addiction, so they can use the cool-off period to reset their life and reconsider their choices.
Session Limits
With session limits, players can specify for how long they would like to be logged in to their betting accounts. When the session timer runs out, the player will be automatically logged out of their account and won't be able to log in to their account that day. Session limits are partciuarly helpful for players that lose track of time when gambling, so when the time runs out, they'll be notified how many hours they've spent gambling.
How do British Columbia's Safe Gambling Organizations compare with International Organizations?
Multiple responsible gaming organizations in British Columbia work hard towards raising awareness, prevention, and dealing with problem and addictive gambling. Canada is among the worldwide leaders when it comes to responsible and safe gaming, and many Canadian organizations collaborate with some of the most successful organizations in the world, such as BeGambleAware, Gamblers Anonymous, Gambling Therapy, GamStop, and GamCare.
How to Gamble Responsibly?
Gambling responsibly means thinking of gambling only as entertainment and not as a way to make money. To gamble responsibly means to be in control of your bankroll at all times and have fun! When you set a budget for gambling, be prepared that you might lose it. Don't chase losses, don't try to beat the house, and do not engage in gambling to escape from your everyday problems.
Gambling as a Source of Entertainment

Gambling should solely be used as a source of entertainment - and nothing more. Even if you experience negative emotions such as stress, anxiety, and frustration, you should always remember that it's all part of the game. If you feel like you're not in control anymore and your negative emotions have taken over you, stop gambling immediately.

Learn to Manage Your Bankroll

Managing your bankroll is crucial when gambling. Be wary of your betting money at all times, and even set a projected bankroll - the amount that you want to reach in that gaming session. If you do reach that amount, stop gambling. You should always be aware of where your money goes and not overspend.

Stick to Your Budget

Before you start a gaming session, you should set up a budget and make sure you stick to it throughout the entirety of the gaming session. If you spend your budget, finish the gaming session immediately. Besides the session limit, you can set weekly and monthly budgets, and if you spend it, stop playing.

Set Your Gambling Session Limit in Advance

Most gambling sites allow you to set deposit and session limits before you even start gaming at the site. Make sure to set your limits before you start gaming because if you wait to see how the session progresses, it might be too late. Use your GameSense to track the time you've spent gambling, and when the timer runs out, stop playing even if you're winning.

Do Not Chase Losses

Chasing losses is considered the first step toward problem gambling. Every gambler will experience a loss at some point, but the harder you try to chase your losses and win back what you've lost, the more you'll be falling into the pitfall. If you lose your budget in full, the right thing to do is stop playing and wait until you can afford to play again.

Do Not Gamble When You Are Upset or Angry

Gambling when you're upset or angry will lead to making bad decisions. Consider gambling as any other game: the angrier you are, the worse of a player you will be. Gambling is not a solution to other problems in life, and if you feel stressed and angry, take a cool-off period.

Make Sure Gambling Does Not Interfere with Your Daily Life

A common symptom of problem and addictive gambling is the inability to focus on anything else but gambling. If you feel like gambling is taking over your life and starting to interfere with your daily chores, request a cool-off period or self-exclusion.

Always Keep Track of the Money and Time Spent Gambling

Thanks to the multiple organizations and services that offer gambling help in BC, players can use various tools to keep track of the money and time spent gambling. It's crucial to keep track of the money and time you've spent gambling throughout the session, and if the time runs out or you've spent your budget, you should end it immediately.
Responsible Gaming at British Columbia Land-Based Gambling Venues
All British Columbia land-based gambling venues that operate under the British Columbia Gaming, Liquor and Cannabis Commission are obliged to promote responsible and safe gaming. Some examples include Deerfoot Inn & Casino and Elbow River casino, which operate with licenses issued by the BCLC and are committed to providing the highest standard of integrity and ethics in all of their gaming practices.
Moreover, all land-based casinos that operate with the BCLC are obliged to have GameSense Info Centres on their casino floors where players can easily get in touch with a GameSense Advisor. Responsible gambling is a very serious matter and both land-based and online British Columbia casinos take great measures to prevent users from becoming problem gamblers. Gambling is all about fun - be it in person or online, and if you ever feel like it's slipping out of your hands, make sure to use any of the available responsible gambling tools and resources to get back on the right track.
FAQ
Where can I get information on responsible and safer gambling in BC?

There are numerous organizations that offer information regarding responsible gambling. Besides the government-run GPEB, you can get information by calling the BC Gambling Support Line at 1-888-795-6111, checking the Gambling Support BC website, or using BCLC GameSense.

Which organizations offer help to gambling addicts and problem gamblers in British Columbia?

If you need help with gambling addiction or you're struggling with problem gambling in BC, multiple organizations offer help in BC. They include the Responsible and Problem Gambling Program, the Gambling Support BC, Here to Help BC, and the toll-free Gambling Support Line at 1-888-795-6111, which offers help around the clock.

What's the legal gambling age in British Columbia?

The legal gambling age in British Columbia is 19. People aged 19 and above can legally engage in gaming activities at all of the land-based and online BC casinos, race tracks, teletheatres, community gaming centres, lottery retailers, and bingo halls.

Which responsible and safe gambling tools are available in British Columbia casinos?

British Columbia casinos are mandated to offer a series of responsible and safe gaming tools, including the option to set up deposit limits, betting limits, and session limits or to opt in for a cool-off period and even self-exclusion.

Can I log in to my account if I already requested a self-exclusion?

No, you can't. If you have requested self-exclusion at any BC casino or organization, you won't be able to log in to your betting account until the self-exclusion period has passed.